UK consumer lending growth slows to weakest since November 2015 - BoE
Comments
By Reuters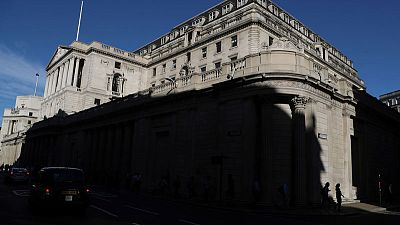 -
LONDON (Reuters) – British consumers borrowed at the weakest pace in nearly three years last month, and foreign investors sold a record volume of their holdings of British government debt, Bank of England data showed on Thursday.
Twinned with a small fall in mortgage approvals, the consumer borrowing figures are likely to fuel concerns of a soft economy ahead of Brexit, while the gilt sales may add to worries about the funding of Britain's current account deficit.
Consumer credit growth slowed to an annual rate of 8.5 percent in July from 8.8 percent in June, the slowest growth since November 2015.
In month-on-month terms, net consumer lending rose by 817 million pounds, down from 1.521 billion in June and below all forecasts in a Reuters poll of economists.
Mortgage approvals for house purchase softened to 64,768 from 65,374, slightly below economists' forecasts of a dip to 65,000 in a Reuters poll.
Net gilt sales by foreign investors totalled 17.153 billion pounds, up sharply from 1.362 billion pounds the month before and the highest since records began in July 1982.
July saw Prime Minister Theresa May set out her first detailed proposals for the terms on which Britain will leave the European Union in March next year.
Last week industry body UK Finance reported a fall in the number of approvals for house purchase in July, though gross mortgage lending increased as existing home-owners sought to lock in cheaper interest rates before the BoE raised its main rate in August.
British house price growth has slowed this year, mostly due to falling prices in much of central London, where demand has been hit by higher purchase taxes on expensive homes and reduced foreign investor appetite since 2016's Brexit vote.
On Wednesday a Reuters poll of housing market analysts showed that on average they saw a three in 10 chance of a significant correction in the British capital's property market before the end of 2019, though their central scenario was for a much smaller fall in prices.
(Reporting by David Milliken and Kylie MacLellan; uk.economics@reuters.com, +44 20 7542 5109)