Macri's bid to calm markets backfires, Argentine peso plummets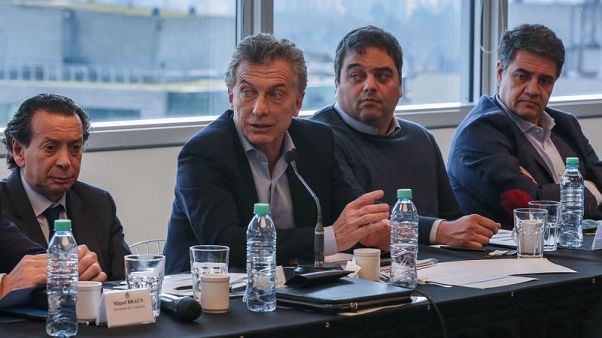 By Luc Cohen and Rodrigo Campos
BUENOSAIRES/NEW YORK (Reuters) – Following seven straight days of declines in Argentina's peso, President Mauricio Macri decided to make a rare address to the nation on Wednesday to reassure markets that the South American country had no trouble paying its debts.
Instead, his two-minute televised speech announcing a deal with the International Monetary Fund (IMF) to speed up disbursement of a $50 billion loan raised alarm about Argentina's ability to finance itself, prompting a steep 7 percent drop in the currency.
The IMF remained silent for hours before issuing a statement saying it was considering accelerating payments because of adverse market conditions, leaving the impression that Argentina was out of step with its creditors.
A senior Argentine Treasury Ministry official, who asked not to be identified, said Macri had spoken to leaders of the main IMF shareholding countries on Tuesday before making his address and had clinched a "political agreement" to bring forward disbursements.
But the official acknowledged that Argentina rushed the announcement after several days of heavy spending of reserves by the Central Bank in a failed attempt to stabilise the peso.
"What the President wanted was to give a convincing message at the market open that the agreement is done," said the official, saying Argentina had pressed ahead before the IMF was ready with its statement.
"Now, in hindsight, we could have waited."
The Treasury official said the government would publish an update on how much money Argentina would need to raise from markets this year and next year on Thursday or Friday. A spokesman for Macri did not respond to a request for comment.
The bungled announcement was the latest in a series of communication failures and broken promises on economic policy that have undermined Argentine policymakers' credibility, shattering market confidence in their ability to turn around the inflation-stricken economy, analysts and investors said.
Continuing the slide, Argentina's currency tumbled more than 15 percent at the open on Thursday to a record low of 39 pesos to the dollar as investors fretted about its ability to pay its debts.
DEBTPROBLEMS
Argentina turned to the IMF earlier this year after a run on the peso made its debts, largely denominated in foreign currency, more expensive to pay.
The Fund disbursed $15 billion in June, with plans to deliver the rest in parts if the country met its targets to reduce the fiscal deficit.
However, the deal did not cover all of Argentina's financing needs. The country would still need to raise $8 billion from markets in 2019, the government said in July. Renewed volatility in emerging markets after a plunge in the Turkish lira left investors unsure Argentina could raise that money.
Confused messaging from the government on everything from tax increases, to interest rate rises and Central Bank independence has undermined confidence in Macri.
For some, Wednesday's televised speech was a step too far.
"The message was addressed to the wrong people," said Jorge Mariscal, emerging markets chief investment officer at UBS Wealth Management. "On a nationally televised show, [it] seems to have appeared as an emergency situation where the country would have to go back and ask for more help."
'DISCONCERTING'
Argentina has a long history of financial crises and has defaulted twice since the turn of the century, including during the 2001-02 economic crisis and debt default that plunged millions into poverty.
Confidence rose after Macri was elected on a free-market platform in 2015. In a sign of its return to the international fold, Argentina sold a 100-year bond last year.
While the peso drop has made servicing debt more costly and forced Macri to speed up budget cuts, few economists believed there was a risk the government would not pay its debts.
Macri, by mentioning the market's "lack of confidence" in "our capacity to find financing in 2019" may have raised doubts that were not there before.
"The messaging is what's taken down the peso," said Kathryn Rooney Vera, head of research and emerging markets strategy at Bulltick LLC in Miami. "Putting something in investors' and the market's mind that perhaps wasn't previously there is disconcerting."
The speed with which the government has changed course on several issues can give the sense that it is improvising or not coordinating, economists say.
Macri's announcement came just two days after Treasury Minister Nicolas Dujovne said the country had requested a $3 billion disbursement from the IMF for September.
In July, the Treasury Ministry insisted that it would aim to cut the deficit through reducing spending rather than raising taxes, only to announce a series of revenue measures – including a pause in planned reductions on export taxes for soy products – less than one month later.
This month, the central bank hiked its benchmark interest rate to 45 percent in an unscheduled meeting less than a week after holding rates at 40 percent at its regular meeting.
The move came just over a month after the bank switched to a monthly rate decision schedule, from twice-monthly previously.
The bank against raised its benchmark rate on Thursday, lifting it to 60 percent, after a special meeting of its monetary policy committee.
In December, the government drew criticism for a press conference in which Dujovne announced a change in inflation targets, which was quickly followed by central bank rate cuts in what economists said was a sign of infringement on monetary authority independence.
"No one is believing the economic team," said Marcelo Trovato, an analyst at Pronostico Bursatil in Buenos Aires. "It is no longer about the economic measures they take, but that the actors have lost credibility."
(Additional reporting by Hugh Bronstein, Eliana Raszewski and Miguel Lobianco in Buenos Aires; Editing by Daniel Flynn and Frances Kerry)
euronews provides breaking news articles from reuters as a service to its readers, but does not edit the articles it publishes. Articles appear on euronews.com for a limited time.