Lenders not to blame for ballooning Pacific debts - Samoa PM
Comments
By Reuters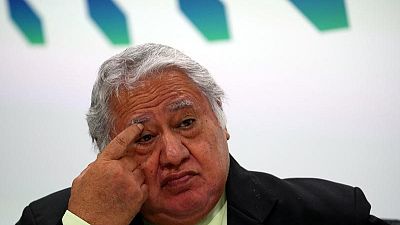 -
SYDNEY (Reuters) – Pacific Island states only have themselves to blame if they fall into debt problems and criticism of China's surging lending in the region by rival powers has been patronising, Samoa's Prime Minister said on Thursday.
China has spent $1.3 billion (999.08 million pounds) on concessionary loans and gifts since 2011 to become the Pacific's second-largest donor after Australia, stoking concern in the West that several tiny nations could end up overburdened and in debt to China.
Samoan Prime Minister Tuilaepa Sailele Malielegaoi, speaking during a visit to the Lowy Institute, a foreign policy think-tank in Sydney, said China was not to blame.
"We should not accuse the lender itself," Malielegaoi told Reuters in an interview when asked about the region's growing debt to China.
"It's up to the country itself to ensure that it sets down guidelines to borrow," he said. "The only reason why countries have not been able to pay is because they did not have proper financial strategies."
China has said it is supporting development in a region where it is needed.
But the debt issue has become a prominent concern since China took possession of a Sri Lankan port as Colombo struggled to pay its dues.
Australia in particular, which has long viewed the Pacific as its backyard, has been critical of some Chinese aid projects, and a former foreign minister has warned that the lending could undermine the long-term sovereignty of recipients.
Malielegaoi said in a speech to the institute that unidentified "traditional" partners had "left the neighbourhood, even if momentarily" and returned to find the region more hotly contested.
"Our partners have fallen short of acknowledging the integrity of Pacific leadership and the responsibility they carry for every decision made in order to garner support for sustainable development in their nations," he said.
"Some might say there is a patronising nuance in believing Pacific nations did not know what they were doing."
Increasing influence in Pacific Region – https://tmsnrt.rs/2LG3p6S
A Reuters' analysis of the financial books of 11 South Pacific island nations shows China is the region's biggest bilateral lender, with loans jumping from almost zero to more than $1.3 billion outstanding in a decade.
Samoa is one of eight island nations in the South Pacific, carrying significant debt to China, but Malielegaoi said the terms were "soft" and repayments "never any problem".
He also criticised a bid, abruptly abandoned after pressure from China, by his Tongan counterpart, 'Akilisi Pōhiva, to make a coordinated request for China to forgive loans across the region.
"It is never a good policy for a small country to keep on asking for loans and asking again for forgiveness, it destroys the country's integrity and relationship with friendly partners," he said.
(Reporting by Tom Westbrook; Editing by Robert Birsel)