I've still got the speed, says Raikkonen
Comments
By Reuters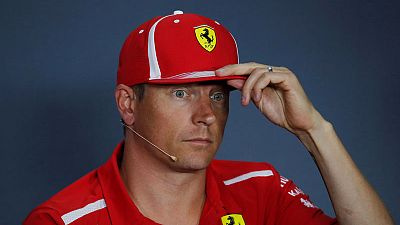 -
By Alan Baldwin
MONZA, Italy (Reuters) – Ferrari's Kimi Raikkonen shrugged off the years on Thursday and suggested his driving this season was no different to a decade earlier.
"I don't feel that I drive any differently than 10 years ago. I think I drive pretty well, in my books at least, and that's enough for me," said the Finn, Formula One world champion in 2007.
Raikkonen, 38, is enjoying one of his better seasons, third in the championship behind team mate and title contender Sebastian Vettel but 85 points behind Mercedes' leader Lewis Hamilton.
The Finn has not won a race since 2013, when he was at Lotus, but has had eight podium finishes in 13 faces this campaign.
One of the most popular, and private, drivers on the starting grid, Raikkonen faces an uncertain future in the sport although it would be no surprise if the Italian team kept him on for one more season and into his 40s.
Ferrari have made major announcements in the past at Monza, which hosts their home Italian Grand Prix this weekend, although last year they confirmed Raikkonen ahead of the Belgian race that precedes it.
The paddock has been rife with speculation about whether Raikkonen will stay, or make way for Ferrari-backed rising star Charles Leclerc who has had an impressive first season with Sauber.
The veteran is 39 in October, meaning another season would see him still racing at 40.
"I wouldn't be here if I didn't feel I can drive as well as I feel that I should," said Raikkonen. "That's my tool to measure and decide when it's enough.
"People always say that the speed will disappear but until this day I feel that it hasn't disappeared for me," he added.
"But maybe there is a morning you wake up and it's just not there anymore. It could be like that but I don't think you just put a date, you just turn this old or that and it's just not there. If you have it, you have it and if not…that's it."
Both Raikkonen and Leclerc ducked questions about the future, the former suggesting it was one for Ferrari to answer while Leclerc said he had no news.
"For now, I didn't have any information so I'm just waiting and hopefully I'll be able to say soon," said the 20-year-old Monegasque, who has also been linked in media speculation to Ferrari-powered Haas.
(Reporting by Alan Baldwin, editing by Toby Davis)