Informant says Peru soccer chief paid off judge - document
Comments
By Reuters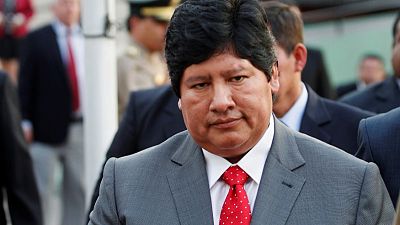 -
By Mitra Taj
LIMA (Reuters) – An informant in a probe of Peru's judiciary has testified that FIFA's top representative in the South American nation paid a judge in exchange for his help winning exclusion from a murder investigation, according to a statement to prosecutors seen by Reuters.
The allegations against Edwin Oviedo could renew calls for him to resign as president of the Peruvian Football Federation (FPF) or be suspended by soccer's governing body, FIFA. The FPF represents and is funded by FIFA, which has spent years trying to remake its image after a slew of graft scandals.
Oviedo took the helm of the FPF at the start of 2015 and within months came under investigation for allegedly ordering the killing of his foes at Tuman, a sugar company dogged by labour disputes after he acquired it in 2006.
In the document seen by Reuters, dated Aug. 3, an informant testifies that Oviedo in 2016 secured a Supreme Court ruling that shielded him from the murder probe by soliciting the aid of Cesar Hinostroza, one of the five Supreme Court justices who signed it.
Oviedo, 47, has repeatedly denied involvement in the Tuman murders, calling his inclusion in the probe a violation of due process.
Oviedo denied striking a deal or giving money or gifts to Hinostroza. "I reiterate my absolute willingness to cooperate fully with relevant authorities," he said in a statement.
Hinostroza did not respond to requests for comment. He has previously denied any wrongdoing.
The informant said Oviedo agreed to pay Hinostroza about $1,000 (768.52 pounds) a month in cash to be his "personal adviser" on the murder probe. The payments took place in the home of a mutual friend, where Hinostroza would edit documents for Oviedo's defence that were to come before him as a judge, according to the testimony.
Oviedo sought Hinostroza's help again this year to help him block a new bid by prosecutors to investigate him, the statement said. He paid with VIP soccer tickets and cash to travel to Russia for this year's World Cup, it said.
If prosecutors can corroborate the claims, Oviedo could face 8 years in prison for corrupting a public official, Peruvian criminal lawyer Mario Amoretti said.
The testimony, which identifies the informant only by code, was cited as evidence in a request to strip Hinostroza of his immunity as a judge in order to charge him with forming part of a criminal group, according to a report sent to Congress by Supreme Prosecutor Pablo Sanchez on Wednesday.
Two sources with knowledge of the testimony said the informant was local car magnate Antonio Camayo, arrested last month as a key suspect in an influence-peddling probe.
Camayo's attorney, Mateo Castaneda, denied Camayo was an informant. The attorney general's office declined to comment. In Peru, authorities cannot comment on open investigations.
FIFA did not immediately respond to requests for comment. The group's code of ethics binds its officials from abusing their position and punishes bribery with a fine and a ban on football-related activity.
(Reporting By Mitra Taj, Additional Reporting By Marco Aquino; Editing by Daniel Flynn and Dan Grebler)