Technology Keys to U.S. Open win
Comments
By Reuters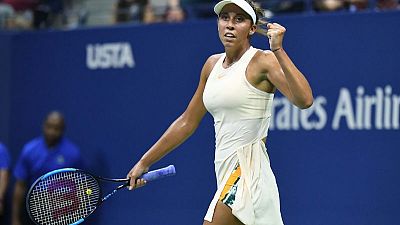 -
By Steve Keating
NEWYORK (Reuters) – The difference between reaching the U.S. Open final and winning it lies is in the details, believes Madison Keys who has turned to technology in an attempt to help make her Grand Slam dream a reality.
Rackets made from space-age materials, training methods taken straight out of Navy Seal manuals, diets and nutrition and sports psychologists are now all part of any top player's game plan.
But compared to other sports tennis players, beyond video games, have been slow to embrace the technology that is now an integral part of almost every professional sports league from Major League Baseball to the National Hockey League.
From the New York Yankees to the Toronto Maple Leafs teams now employ analytics departments whose sole job is to crunch numbers and tendencies in a never ending quest to find that little advantage that can make a big difference.
Keys, who lost last year's final to Sloane Stephens, has hooked up with IBM and will use new technology at Flushing Meadows that will allow her coaches to index and analyse video.
What was a tedious process that could take two to three hours can now be done in 30 minutes while allowing coaches the ability to keep track of all the matches happening across the country.
Analysing an opponent's tendencies, weaknesses and strengths is nothing new in tennis, but the amount of data and what can be done with it could provide a whole new edge.
"That data gets very specific whether it is where someone is hitting the ball on the serve and court position and all of that," Keys told Reuters. "Being able to have that information for matches is incredibly valuable.
"That raw data normally you would have to wait until you have played a match.
"The unique thing is now linking it to practise so you can be ahead of it, what to do and what I need to work on to make it more difficult for an opponent to read me."
Keys, who is using the technology for the first time at Flushing Meadows, eased past Frenchwoman Pauline Parmentier in her opener on Tuesday with a tidy 6-4 6-4 victory.
All the technology in the world, however, cannot help a player deal with their emotions. That comes with experience and the 14th seed believes that is another area where she has improved.
"I feel like I've had a lot of experience under my belt now and how to deal with crazy emotions getting myself into a final," Keys said.
"Personally, I don't like having too much information but I do like very specific things like an opponent's tendency on break points where are they most likely going to serve.
"Little things like that, having that information going into a match can be really crucial."
(Editing by Ed Osmond)