Struggling Gabbiadini will not leave Southampton on loan - Hughes
Comments
By Reuters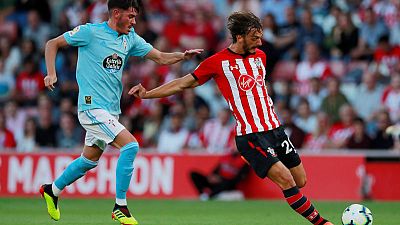 -
(Reuters) – Striker Manolo Gabbiadini will stay at Southampton this season rather than go out on loan despite his goalscoring struggles, manager Mark Hughes said.
Gabbiadini last scored for the Saints in their penultimate league match last season and is yet to find the net in three appearances so far, the latest of which was in Tuesday's 1-0 win over Brighton and Hove Albion in the League Cup second round.
"Gabbiadini struggled to a certain extent," Hughes is quoted as saying in the Daily Echo. "We're conscious he hasn't had game time here and players sometimes need games and runs of games….
"He won't be going out. I like the options I've got upfront, I have no intention of letting anybody else out.
"I'd be surprised if anyone else would go out now."
The Welsh boss outlined Gabbiadini's struggles, saying the Italian striker needed to be more vocal and demanding while asking for the ball.
"At times we don't recognise the good runs that he makes, he's got a lot of energy and at times he'll demand the ball," Hughes added.
"He's not very demonstrative as a guy, he won't scream and shout when maybe he should do just to make people aware that he wants the ball at the right time.
"Maybe at times we're guilty of not giving him the service he wants but on other occasions he knows what he has to do… he mustn't let opportunities pass him by."
Hughes also praised forward Sam Gallagher's performance against Brighton but says the 22-year-old needs more time to adapt to the game.
Southampton are 17th in the league and travel to Crystal Palace on Saturday.
(Reporting by Aditi Prakash in Bengaluru, editing by Pritha Sarkar)