Amundi sees Wall Street's bull run continuing before slowdown in 2019-20
Comments
By Reuters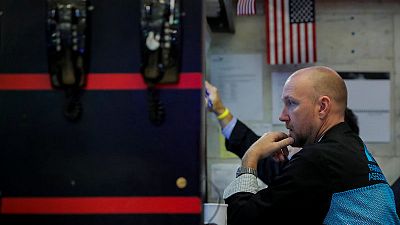 -
By Inti Landauro
PARIS (Reuters) – Amundi, Europe's largest asset manager, is betting the U.S. stock market's rally will continue through the second half of this year, though a slowdown is coming and European markets may outperform in 2019 and 2020.
Wall Street's blue chip S&P 500 index hit a record on Wednesday, having registered a record 9-1/2 year upward streak, raising concerns a brutal correction might be coming. But high stock prices are justified partly by strong company profits, Amundi's Deputy Chief Investment Officer Vincent Mortier said.
He expects a soft landing for the U.S. economy in 2019 and 2020, slowing Wall Street's progression, whereas European markets will remain solid.
Amundi, which manages 1.47 trillion euros (1.33 trillion pounds) in assets, is betting the extended bull market in the United States is likely to continue, as low market volatility and strong company performances keep attracting investors, Mortier said.
"Fund managers here are tending to raise their positions on the U.S. and cut exposure to Europe and emerging markets. It's mechanical, a fund manager who doesn't do that could be blamed," Mortier told Reuters on Wednesday.
"If your horizon is, say, November, this is what you had to do."
In 2019 or 2020, however, equity prices in Europe may outperform the United States, he added. Amundi has 17 percent of its assets in equities, its website shows, and 45 percent in bonds.
Amundi's analysts expect a soft landing for the U.S. economy next year and in 2020, to a gross domestic product growth of 2 percent in 2020 as a result of the combination of trade barriers, higher inflation, higher interest rates, lower productivity gains and thinner profit margins, Mortier said.
"The economic cycle in the U.S. was extended by President Donald Trump's tax reform, but now it shows signals of fatigue," he said, referring to measures signed into law last December that slashed the corporate rate from 35 percent to 21 percent and temporarily reduced the tax burden for most individuals.
FASTESTEXPANSION
According to data released on Wednesday by the U.S. Commerce department, the economy grew by an annualised 4.2 percent in the second quarter, its fastest expansion in almost four years.
U.S. assets will remain popular in coming months as safe havens for institutional investors reminded of emerging market risks by crises such as the one that rocked Turkey during the summer, Mortier said.
He dismissed the possibility of a general crisis spreading to all emerging markets, though, as many had cleaned up their debt structure and reduced their dependence on foreign markets.
Mortier and his teams favour debt from countries such as Mexico, Serbia, Czech Republic, Russia and China, he said, while shunning Taiwan, South Korea and Malaysia.
"We also like India, but it's expensive, it's complicated to find buying opportunities," he said, adding he is also wary of Brazil and South Africa.
Italy is also a concern, though he said a selloff triggered by a conflict between the Italian government and the European Commission could bring good buying opportunities. He doesn't see a contagion to Spain or Portugal as likely.
The deputy chief investment officer also advocated the return of stock picking as opposed to index tracking, which could generate volatility in the case of a market downturn.
In the tech industry, for instance, Amundi's fund managers are cautious when investing in the U.S. giants, he said.
"We like the ones which create real value and tangible assets, and we don't like those whose business models could be threatened by regulators and competitors," he said.
He declined to name any of the companies in which Amundi is invested.
(Reporting by Inti Landauro; Editing by David Holmes)