South Sudan rebels refuse to sign latest peace deal
Comments
By Reuters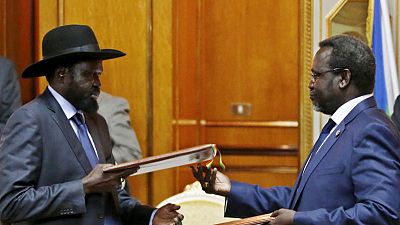 -
KHARTOUM (Reuters) – South Sudanese rebels refused on Tuesday to sign the latest draft of a peace deal with the Juba government that would end a years-long civil war, a setback after recent breakthroughs in talks.
President Salva Kiir and the leader of the main rebel group, Riek Machar, signed up to a ceasefire and power-sharing agreement earlier this month. An initial deal in June aimed to end fighting that first broke out in 2013.
But Machar and another rebel group refused to sign the latest draft of the agreement, saying that disputes over power sharing and a new constitution had been ignored in the draft.
"This is an unfortunate development that will not reflect well on the impartiality of the mediators and will throw doubt onto the whole process," the rebels said in a statement.
Sudan has brokered talks between Kiir and various rebel groups in Khartoum this year.
Sudanese Foreign Minister Al-Dirdiri Mohamed told reporters earlier on Tuesday: "We hope that the sides which did not make the final signature today will sign in due course.
"It's not possible to achieve peace without the participation of Machar," he said.
Previous South Sudan peace deals have held for only a matter of months before fighting resumed. Kiir blamed the collapse of those agreements on foreign influence.
U.S. DOUBTSPEACEPROSPECTS
South Sudan's civil war erupted in 2013, less than two years after it gained independence from Sudan.
Fuelled by personal and ethnic rivalries, the conflict has killed tens of thousands, displaced an estimated quarter of South Sudan's population of 12 million and ruined its economy, which heavily relies on crude oil production.
The secession of South Sudan also hit Khartoum's economy hard, taking with it most of the region's oil reserves.
Sudanese President Omar al-Bashir said earlier this month – just after Kiir and Machar signed the Aug. 5 ceasefire agreement – that oil would be pumped from South Sudan's Wahda region to Sudan beginning in September.
Khartoum and Juba agreed in June to repair oil infrastructure facilities destroyed by the war within three months to boost production and said a joint force would be established to protect oilfields from attacks by rebels.
While Khartoum has trumpeted breakthroughs in the talks it hosted, the United States, which backed South Sudan's independence, says it is sceptical about peace prospects.
The White House said last month it doubted whether Kiir and Machar have the leadership qualities needed to deliver peace, adding that it would impose fresh sanctions on anyone who threatens South Sudan's stability.
(Reporting by Khalid Abdelaziz, writing by John Davison in Cairo; Editing by Gareth Jones)