Global central banks could sell 100 billion pounds from reserves in case of hard Brexit - BAML
Comments
By Reuters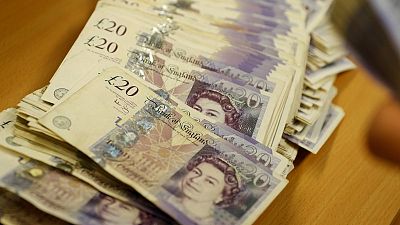 -
LONDON (Reuters) – Central banks holding sterling as part of their forex reserves could sell more than 100 billion pounds should Britain crash out of the European Union without a trade deal, a Bank of America Merrill Lynch study showed on Tuesday.
The prospect of a no-deal Brexit is becoming increasingly feasible in the eyes of investors who are hedging against the risk of the currency tanking if Britain is left isolated from the EU, its largest trading partner.
Central bank selling could be a major catalyst for a significant sterling downturn should Britain prove unable to secure a deal before next March, BAML told clients, noting that global sterling reserves currently amount to nearly $500 billion (£388 billion).
While International Monetary Fund data shows sterling comprising 4.5 percent of total central bank reserves, BAML said sterling's average share of global reserves since 1995 was 3.6 percent. A 1 percent decline in sterling reserves equates to 100 billion pounds of selling, it calculates.
"In a scenario that central banks adjust their sterling holdings back to the long-term average (3.6 percent), this suggests that they could sell upwards of 100 billion pounds in sterling reserves on a no-deal scenario, all else being equal," the note said.
BAML still expects a "soft" Brexit in which Britain retains customs access to the EU, and said reserve managers would likely await confirmation of a no-deal scenario before making a portfolio shift.
"This [no-deal Brexit] is not our base case, but we think central bank flows are an important source of flow which could determine whether sterling succumbs to a more protracted current account crisis," the bank added.
(Reporting by Tom Finn; editing by Sujata Rao and Richard Balmforth)