Brazil prosecutors accuse PT´s VP candidate of wrongdoing
Comments
By Reuters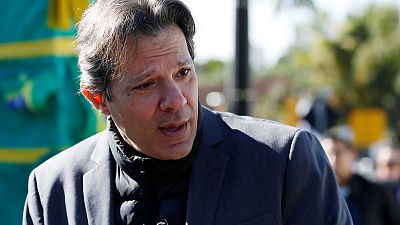 -
SÃO PAULO (Reuters) – São Paulo state prosecutors have accused Workers Party vice presidential candidate Fernando Haddad of administrative wrongdoing, according to court documents seen by Reuters on Tuesday.
The accusations centre on payments of debts related to Haddad's campaign for mayor of São Paulo in 2012 made by a construction company in the following year. The payments, around 3 million reais ($730,000), were allegedly made by representatives of construction conglomerate UTC Participações to a company that printed Haddad's campaign materials, court documents showed.
Such payments, according to prosecutors, were aimed at obtaining illegal advantages for UTC as a contractor of public works in the city of São Paulo after Haddad had already taken office.
UTC did not have an immediate comment.
Haddad, who is the running mate of former President Luiz Inácio Lula da Silva, denies any wrongdoing.
In a statement, Haddad's press representatives said all graphic materials produced during his mayoral campaign were declared. "There was no reason to receive any undeclared money from UTC," the statement said.
The accusations against the former mayor have to be accepted by a judge before he faces any possible trial. His place on the PT ticket is unlikely to be imperiled by the accusations.
Brazil's PT officially named Lula as its presidential candidate earlier this month even though he is in prison on a corruption conviction that will almost certainly bar him from running.
Haddad is expected to top the ticket if Lula's bribery conviction blocks his candidacy.
(Reporting by Ana Mano in São Paulo, Lisandra Paraguassu in Brasília and Pedro Fonseca in Rio de Janeiro; Writing by Ana Mano; Editing by Steve Orlofsky)