Games - Jakarta silver erases nightmares for tormented Indian sprinter Chand
Comments
By Reuters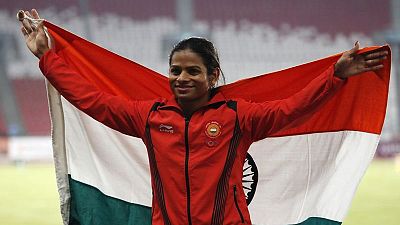 -
By Jessica Damiana
JAKARTA (Reuters) – India's Dutee Chand has gone through some pretty dark days over the last few years as she battled to compete in athletics despite her hyperandrogenism but all that was forgotten once she had her Asian Games 100 metres silver medal in her hands.
The 22-year-old from Odisha has long lived with the condition which naturally produces high testosterone levels and for a year saw her unable to run in International Association of Athletics Federations (IAAF) competition.
It was her appeal to the Court of Arbitration for Sport (CAS) that saw the IAAF ban struck down for two years in 2016 and on Sunday she finished two hundredths of a second behind Edidiong Odiong in the blue riband sprint.
"I'll tell you how I feel," she told reporters. "When a mother gives birth to a child, she goes through a lot of pain. But she forgets everything the moment she sees the baby.
"I'm having the same feeling. It has erased all my nightmares. It's a big moment for me."
Chand thanked the legal team who fought her case at CAS, which paved the way for athletes with hyperandrogenism to compete in 100m and 200m.
Despite being the first Indian woman since 1980 to compete in the 100m at the Olympics in Rio two years ago, Chand has been subject to abuse for being "unfeminine" by some in her homeland.
She was unable to reach the final in Brazil but won two bronze medals at last year's Asian athletics championships in Bhubaneswar before going one better in Jakarta on Sunday.
"Those memories troubled me a lot," she said. "People used to say a lot of things about me. I ignored everything and focused on training, and I never lost faith in God.
"I worked six hours a day, every day … I gave everything for the gold but it was God's wish."
Nigerian-born Bahraini Odiong pipped Chand to the gold with a late surge, something the Indian blamed on her inexperience.
"I have not participated in many international events, while the girl who won the gold is a regular," she said.
"Experience matters a lot at this level. I'm still happy because I'm returning with a medal. It was a good race."
(Writing by Amlan Chakraborty in Jakarta; editing by Nick Mulvenney)