First the EU, now prosecutors - Italy's home minister thrives on friction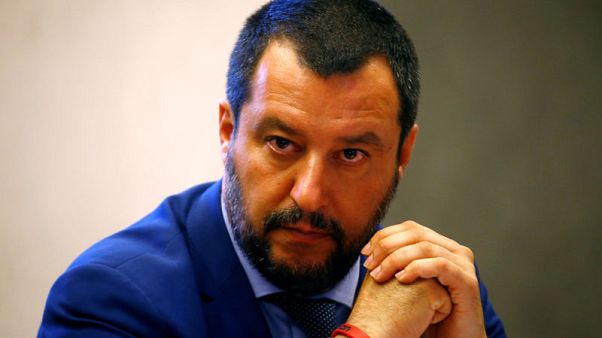 -
By Angelo Amante and Gavin Jones
CATANIA/ROME, Italy (Reuters) – Italy's hardline interior minister, Matteo Salvini, is surfing a wave of public support after his latest showdown over immigration with the European Union, a row that also pitted him against a new foe: his country's own judiciary.
The 10-day-old standoff ended in southern Catania port at the weekend after EU member Ireland and Albania, an EU aspirant, agreed to take some of the 150 migrants who had been rescued at sea and denied permission by Salvini to come ashore.
Salvini, though, remains under investigation from a Sicilian magistrate for alleged abuse of power and holding people against their will, an extraordinary challenge which appears to have only strengthened his public appeal and political hand.
"He had tried to do the right thing by us and now they investigate him," 76-year-old pensioner Sebastiano Pittera said outside Catania's main cathedral after the home minister allowed the migrants to disembark from a rescue ship.
"We are not a rubbish bin for Africa."
About 650,000 people have reached Italian shores since 2014, mostly from Africa, and the country houses 160,000 asylum seekers.
The pensioner's remarks chime with a straw poll of TV viewers on the same day by broadcaster Sky, which showed 80 percent support for Rome's hard line, and with political experts who say the investigation helps Salvini in his anti-EU campaign.
A survey by pollster SWG, carried out at the end of July, showed 30 percent backing for Salvini's right-wing League party, compared with its 17 percent support at the March general election and outstripping its bigger coalition partner, the 5-Star Movement, which won almost twice as many seats in parliament.
The stronger Salvini becomes at home, the more pressure he can apply on his EU partners, not only on immigration but over EU fiscal rules, the experts say. The coalition is pushing Brussels to approve a big-spending Italian budget for 2019.
"The prosecutor has done Salvini a gigantic favour. It turns him into a martyr," said Francesco Galietti, head of political risk consultancy Policy Sonar.
Prosecutor Luigi Patronaggio, who travelled to Rome on Saturday to question interior ministry officials as part of his criminal investigation, declined to be interviewed by Reuters.
He opened his inquiry last week against "unknown persons" — a preliminary step in Italian judicial investigations — but Salvini later said he was responsible for his ministry's actions, challenging the prosecutor to arrest him.
"I am not afraid of anything: investigate, interrogate me, arrest me. I am PROUD to fight to defend our borders and the security of Italians and protect the future for our children," he tweeted at the height of the standoff.
Salvini has effectively closed ports to asylum-seekers rescued at sea, demanding his EU partners accept a proportion of Africans who are intercepted by rescue ships off Italy.
Though arrival by boat into Italy are down 81 percent so far this year, EU nations have not committed to take those rescued at sea. At a meeting on Friday, EU officials failed again to go beyond the bloc's current reliance on voluntary, ad hoc help.
Lorenzo Pregliasco, head of pollster and political analysis firm YouTrend, said the investigation into Salvini would boost his support, just as former prime minister Silvio Berlusconi used judicial challenges to garner voter sympathy in the 1990s.
"I have no doubt this could be helpful for him in terms of energizing his base," Pregliasco said.
Salvini's political appeal has been nationwide despite his League having been born in Italy's wealthy north with an avowed aim of splitting from the poor south, a goal since abandoned.
In Catania, even those who are not fervent Salvini supporters, believe he should not face criminal investigation for his refusal to allow migrants to come ashore.
"He (the prosecutor) has not done well, and nor has Salvini. But if I were to have to choose between the two, I would choose Salvini. It's not right that Italy is the only point of disembarkation," said Michela Musumarra, 24, who works in a tourist office in Catania.
(Writing by Mark Bendeich; Editing by Richard Balmforth)
euronews provides breaking news articles from reuters as a service to its readers, but does not edit the articles it publishes. Articles appear on euronews.com for a limited time.