Pumas loss a setback to Boks' World Cup plans - Erasmus
Comments
By Reuters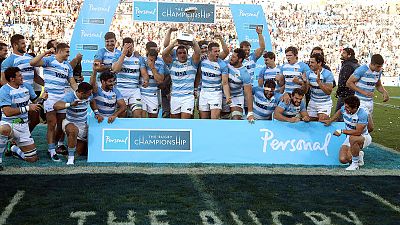 MENDOZA, Argentina (Reuters) – South Africa's Rugby Championship defeat to Argentina had set back the Springboks' plans to experiment ahead of the World Cup, coach Rassie Erasmus said.
The 32-19 loss at the Estadio Malvinas Argentinas was South Africa's third in 28 tests against the Pumas, sending them back to earth after their comfortable opening win over the South Americans in Durban.
Erasmus said he had hoped to use the next game against struggling Australia, who suffered a second successive thrashing by the All Blacks, to experiment with different players as they build toward next year's World Cup in Japan.
"We had certain plans that we wanted to try against Australia, but that's out the window now," he told reporters.
"We have to get back to winning ways again, it's win at all costs now.
"This puts us back quite a bit. We wanted to win this game and give a few other guys a chance against Australia but we can't do that now."
The Springboks were 20 points down at half-time on Saturday, outscored by four tries to three and despite dominating the second half, committed a litany of errors to always be up against it.
"We were playing better rugby in the second half but we just didn't make use of our opportunities.
"I'm not going to look for positives after a performance like that. We have no excuses, we knew exactly what to expect, we prepared for it but we just didn't handle it."
Erasmus was also scathing of their finishing early, lamenting a nunmber of wasted chances to score tries in the opening quarter.
"We played like a team that's playing club rugby," he told broadcaster SuperSport.
"I must point the finger at myself. When you play like this, the coach did something badly wrong during the week.
"It's not an excuse, because we are picking and coaching the team, but with the youngsters (in the team), they're going to go through these games when they are rattled and they have to learn how to handle it.
"I don't want to say we learn, we learn, we learn. We had a terrible performance, it was unacceptable … we can't perform like that in a Springbok jersey."
South Africa next face the Wallabies in Brisbane on Sept. 8.
(Reporting by Mark Gleeson in Cape Town; Editing by xx)