Myanmar court to deliver verdicts on jailed Reuters reporters
Comments
By Reuters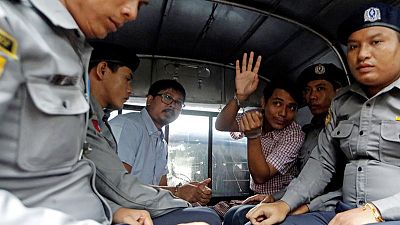 -
YANGON (Reuters) – A court in Myanmar is set to hand down verdicts on Monday in the case of two Reuters journalists accused of obtaining secret state documents.
Wa Lone, 32, and Kyaw Soe Oo, 28, are charged with breaching the Official Secrets Act, which carries a maximum sentence of 14 years in prison.
The court in Yangon has been holding hearings since January. The reporters and one police witness for the prosecution have testified that they were set up by police to block or punish them for their reporting of a mass killing of Rohingya Muslims.
The verdict will be delivered amid growing pressure on Myanmar leader Aung San Suu Kyi and her government over an army crackdown that began last August. Around 700,000 Rohingya have since fled the western state of Rakhine to neighbouring Bangladesh, according to United Nations agencies.
Soldiers are accused of mass killings, rape, and arson in a campaign the U.N. has called a "textbook example of ethnic cleansing".
Myanmar denies most of the allegations, but has acknowledged the killing of 10 Rohingya men and boys by troops and Buddhist civilians in the village of Inn Din that the two Reuters reporters had been investigating when they were arrested.
During eight months of hearings, Wa Lone and Kyaw Soe Oo have testified that two policemen they had not met before handed them papers rolled up inside a newspaper during a meeting at a Yangon restaurant on Dec. 12. Almost immediately afterwards, they said, they were bundled into a car by plainclothes officers.
In April, Police Captain Moe Yan Naing testified that a senior officer had ordered his subordinates to plant secret documents on Wa Lone to "trap" the reporter.
Other police witnesses have told court the reporters were searched at a routine traffic stop by officers who were unaware they were journalists and found to be holding secret documents from an unknown source.
The verdict is due on the same day that a U.N mandated fact-finding mission will release its report on the Rohingya crisis. On Tuesday, the United Nations Security Council will hold a briefing on Myanmar in New York.
(Editing by Alex Richardson)