Zverev needs mindset change to make Slam breakthrough, say pundits
Comments
By Reuters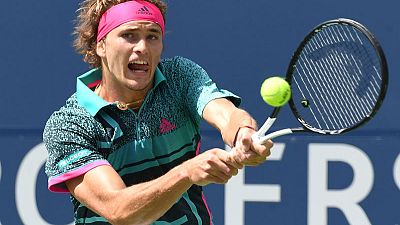 -
By Andrew Both
(Reuters) – Germany's Alexander Zverev needs to improve the psychological side of his game to take the next step in his career and win a Grand Slam, according to former players Chris Evert and Brad Gilbert.
Among the current crop of youngsters looking to depose the game's well-established heavyweights, Zverev's burgeoning talent marks him out.
The 21-year-old, known as Sascha, has already won nine singles titles and warmed up for next week's U.S. Open by winning in Washington for the second straight year earlier this month.
Yet Gilbert, a former world number four who coached Andre Agassi and Andy Roddick to Grand Slam success, feels it could be another year or so before Zverev is ready to scoop up one of tennis's four major titles.
He believes, however, the player made a smart move in appointing eight-times Grand Slam champion Ivan Lendl to his coaching team, a decision announced on Tuesday.
"He just took a step in the right direction (by appointing Lendl), which he probably should have done sooner," Gilbert, who will be part of ESPN's coverage of the U.S. Open in New York, said in a conference call.
"When I watch Zverev, for some reason he plays freer when he plays in the (Masters 1000 events) and some of the smaller events than he does in the Slams.
"I think that he has to forget about the expectations and play the opponent on the other side of the net and avoid playing five-set matches early in the tournament.
"That's what has … gotten him in trouble a little bit the last few Slams," added Gilbert, who also tipped 20-year-old Greek Stefanos Tsitsipas to make a major breakthrough.
Evert, an 18-times grand slam singles champion, thinks Zverev has to stop being so hard on himself.
"I think he gets down on himself, gets emotional, and I think it does affect his play. If he improves that side of his game I think Zverev has it all," said Evert, who won the last of her six U.S. Open titles in 1982.
"I'm all for showing your emotions if you can forget about it going to the next point (but) I think he carries it with him."
Evert cited the ability of the long-retired John McEnroe, a volatile character who could nonetheless put the past quickly behind him and focus on the next point.
Zverev is seeded fourth for Flushing Meadows, but his quarter-final appearance at this year's French Open represents his best result at a Grand Slam.
Tsitsipas is seeded 15th for the U.S. Open, even though he has not won a single tour-level tournament.
He showed his immense talent, however, by reaching the final at the Rogers Cup in Toronto earlier this month, beating Zverev, Novak Djokovic and Kevin Anderson in the process.
"I watched Tsitsipas kind of grow in our eyes in Canada," Gilbert said.
"He's unbelievably athletic. He plays great defence. I like his ability to finish at the net.
"I think his upside is tremendous. I think that as he gets stronger, I think he can serve bigger.
"I think a good goal for him probably 12 months on is to cut his ranking in half, and I think that he will compete to win Slams. I think that after Zverev, he's the best at the moment that's 23, 24 and under."
Potential does not automatically translate into success, however, especially with Roger Federer, Rafa Nadal and Novak Djokovic still dominating the game's big prizes.
"The big three have wiped out a whole generation," Gilbert said.
"I'd put it at a minimum of 79.83 percent one of those three win the last slam of the year."
(Reporting by Andrew Both in Cary, North Carolina; Editing by Toby Davis)