Rugby - Argentina's local boy Bertranou not resting on his laurels
Comments
By Reuters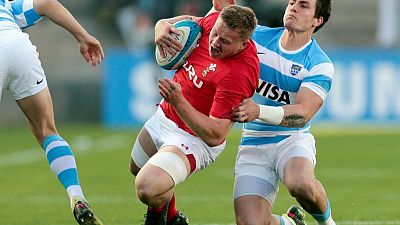 -
MENDOZA, Argentina (Reuters) – New Argentine scrumhalf Gonzalo Bertranou knows he can ill afford to rest on his laurels after dislodging one of the country's most exciting players from the Pumas squad and bringing a 61-test streak to an end.
The choice of Bertranou to face South Africa in Saturday's Rugby Championship clash in Mendoza, in tandem with the selection of Tomas Cubelli on the bench, means Martin Landajo will not be involved for the first time in five years.
Landajo, now 30, has been ever-present for Argentina since August 2013, playing either in the starting XV or coming off the bench, as he did last Saturday in Durban where the Pumas were beaten 34-21 by the Springboks.
But new coach Mario Ledesma, who made Bertranou first choice for the Jaguares in Super Rugby this season, is not one for sentiment and turned to the 25-year-old from Mendoza to run affairs from the base of the scrum, while dropping Landajo from the match-day squad for the second game in this year's southern hemisphere competition.
Cubelli last played for the Pumas almost a year ago.
"All the training I've done has helped me to this position but I'm well aware that I cannot afford to relax or believe that I'm the first choice, because that is never the case," Bertranou told reporters on the eve of Saturday's test.
"When you begin to believe you are the owner of something, that's when you lose it.
"I don't know if there are other teams in the world with so much competition for the scrumhalf position, with such great players as Marta (Landajo) and Cubo (Cubelli).
"I've worked hard to get to this moment. I trained hard, I doubled my efforts. I eat better, I sleep better, I did what I had to do," added Bertranou.
LITTLEHERMIT
Saturday's game will be Bertranou's second for Argentina in front of his home crowd in Mendoza. He came off the bench in the last few minutes to replace Landajo in last year's Rugby Championship defeat by Australia at the Estadio Malvinas Argentinas.
"It's going to be really special. I've worked hard for this moment but you're never calm when you play for the Pumas and less so when you do it in your home province," he added.
The scrumhalf is the only Mendoza player in the squad, which has meant a lot of extra attention this week. But Bertranou has sought to cut himself off to concentrate on Saturday's game.
Not even his father Miguel, who won 15 caps as a loose forward for the Pumas, was allowed to visit the team hotel.
"My old man wanted to come to see me but I didn't let him. I have cut off everyone, I'm a little hermit."
(Writing by Mark Gleeson in Cape Town; Editing by Ken Ferris)