Motor racing - F1 teams agree to let Force India retain revenue rights
Comments
By Reuters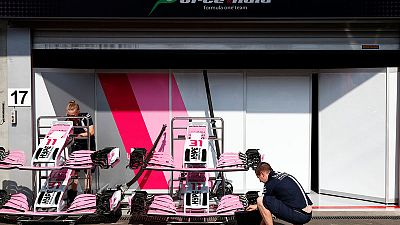 -
By Alan Baldwin
SPA-FRANCORCHAMPS, Belgium (Reuters) – Force India have been allowed to retain their previously-accrued prize money status despite being reborn as new entrants in the Formula One constructors' championship from this weekend's Belgian Grand Prix.
"The remaining nine teams have signed a document that enables us to keep the money that Sahara Force India had earned in years past," team principal Otmar Szafnauer told reporters on Friday.
The now-defunct Sahara Force India team has finished fourth for the past two years and were in sixth place before being rescued from administration by a consortium led by Canadian billionaire Lawrence Stroll.
Formula One's prize money is distributed among the teams in three parts – so-called 'column one' and 'column two' revenues along with special payments to certain teams such as Ferrari for their past contribution.
The column one pot is divided equally among teams who have been classified for two of the past three years while column two monies are based on their classification in the previous season.
As a new mid-season entry stripped of constructors' points from the first 12 races, Force India risked losing column one payments as well as reduced revenues from the column two distribution.
"We'll do the best we can to score as many points as we can in the remaining race and we'll see where we end up at the end of the season, and that will determine some of the prize fund for the following year," said Szafnauer.
The team principal also confirmed that there would be no change in engine allocations as a result of the team starting from zero, with engines already used this season counting towards the total allowed.
"We had confirmation today from (race director) Charlie (Whiting) that we will continue with the engine allocation and gearbox allocation as if we never ceased racing," he said.
"I think in his eyes he thought that was the most fair thing to do vis-a-vis the other teams, so that's how we're going to go forward."
(Reporting by Alan Baldwin, editing by Christian Radnedge)