Motor racing - Ocon has faith in Mercedes to resolve his future
Comments
By Reuters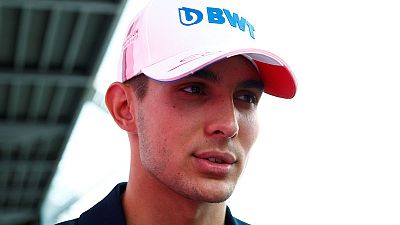 -
By Alan Baldwin
SPA-FRANCORCHAMPS, Belgium (Reuters) – French Formula One driver Esteban Ocon put his faith in his management and Mercedes on Thursday after an expected move from Force India to Renault was scuppered by Australian Daniel Ricciardo.
The 21-year-old Mercedes protege had looked set to replace on-loan Spaniard Carlos Sainz at Renault until Ricciardo suddenly decided to leave Red Bull and join the French manufacturer.
That move was announced as the sport started its August break.
Ocon told reporters at the Belgian Grand Prix that it had not come as a shock.
"Obviously we had possibilities there (Renault) and in the end it's past and we have to move forward. I wish Daniel and Renault all the best. Dan is a good guy and I like him," he said.
"I'm not worried. Mercedes and my management have been taking the right choices in the past years and I'm sure they will be able to do the same again."
Ocon is highly-regarded by champions Mercedes, who have no vacancies at their own team, and they were keen to ensure he retained a competitive seat at a time when Force India's future looked uncertain.
That team went into administration last month, a move triggered by their Mexican driver Sergio Perez, but have been rescued by a consortium led by Lawrence Stroll, billionaire father of Williams driver Lance.
Stroll junior is now expected to join Force India, with some media speculation suggesting Ocon could move to Renault-powered McLaren, whose car is much more competitive than the struggling Williams.
Spaniard Sainz has already been signed by McLaren for 2019 as successor to compatriot and departing double world champion Fernando Alonso, but Belgian Stoffel Vandoorne is not certain to stay.
Perez told reporters he knew where he would be next year but Ocon remained unsure.
"There are rumours here and in different places but at the moment there is nothing sure," he said.
"I don't know if I will move to McLaren, I don't know if I will be moving from here. At the moment these are just rumours and we'll see."
Ocon added that he had known the Strolls for years and 19-year-old Lance, with whom he raced in the junior series, was "one of my best mates".
(Reporting by Alan Baldwin, editing by Jon Boyle)