Knockout unlikely as Woods, Mickelson step into PPV ring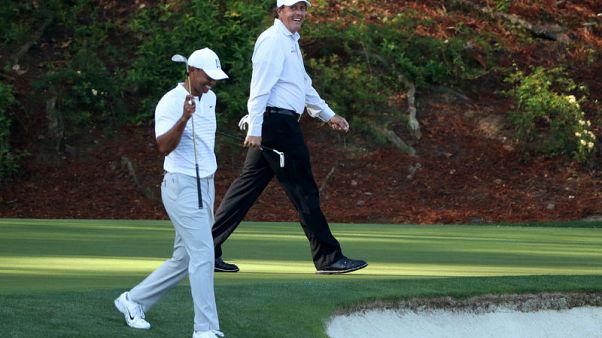 By Steve Keating
(Reuters) – The rivalry between Tiger Woods and Phil Mickelson, once among golf's most intense, is now more chilled than charged but TV executives are gambling the aging icons can still generate enough heat to turn a winner-takes-all $9 million showdown into a must-see event.
Much like the Manny Pacquiao and Floyd Mayweather championship boxing fight, the Woods v Mickelson 18-hole duel in Las Vegas scheduled for the U.S. Thanksgiving weekend is one which will unfold with both men well past their prime.
Two of the most intriguing and successful golfers of their generation with 19 major titles between them, the pay-per-view spectacle will ultimately be a referendum on just how popular the 42-year-old Woods and 48-year-old Mickelson are and, by extension, how much appeal their sport still has.
"If it's more than $10 I'm not paying for it although I would pay $20 to watch them box," Bob Dorfman, a sports marketing expert at Baker Street Advertising in San Francisco, told Reuters.
"There's nothing at stake, the money doesn't really matter these guys make so much, Tiger makes that much in one endorsement deal.
"It's not 'WOW let's watch them play for so much money'.
"Maybe if it was a bet and the money coming out of the loser's pocket, maybe that would add a little juice but I'm not just seeing any compelling reason to watch."
While a shot at a $9 million payday would leave most people a crumbling mess, for two of the world's wealthiest athletes a seven figure windfall might not even get the heart pumping.
Forbes last year rated Woods as the second highest-paid athlete of all-time with $1.7 billion in career earnings, second only to basketball's Michael Jordan, while Mickelson slotted in at number six on $815 million.
The sweaty palms are more likely to be found in the offices of WarnerMedia, which has secured worldwide media rights to the event where the important numbers will be the price point for the PPV and the number of buys.
The match is likely to have limited global appeal with PPV promotion focused on the U.S. market.
"If priced correctly there will certainly be interest," David Carter of the Sport Business Group told Reuters. "The event cannot come across as contrived or viewers will see right through it and feel slighted.
"The match has to be intriguing and engaging and provide viewers a more personal level of connection to Tiger and Phil than they would otherwise get on the typical Sunday afternoon stroll up the fairway."
FIRSTSALVO
When the announcement was made on Wednesday the first salvo of Twitter trash talk was limp.
"I bet you think this is the easiest $9M you will ever make," chided Mickelson.
"Think you will earn some bragging right?" countered Woods.
"Let's do this," Mickelson shot back.
Hardly the fiery rhetoric that helped turn the gimmicky Conor McGregor and Mayweather crossover fight into a PPV bonanza.
To make a truly compelling spectacle there needs to be a good guy and a bad guy and neither Mickelson or Woods have seized on the villain or hero's role.
Fifteen years ago their mutual dislike was palpable and the jabs they took at each other really stung.
But that once frosty relationship has thawed to the point where they play practice rounds together as they did at Augusta National before this year's U.S. Masters.
Mickelson and Woods paired together in the final round of a major would need no hype to drive ratings through the roof.
But with those days probably long gone, a manufactured showdown for cash may well be the last chance to see the two battle for anything significant.
If television ratings, however, are any yardstick, Woods, on the comeback trail after undergoing spinal fusion surgery last year, remains golf's most compelling figure and biggest draw despite not winning a major title in over a decade and securing the last of his 79 PGA Tour wins in 2013.
"What they are going to try to do is ride the Tiger phenomenon, Mickelson just hasn't been playing well," George Belch, a marketing professor at San Diego State University, told Reuters.
"Tiger is moving the needle again, if you look at the PGA (Championship) ratings they were up 60 percent.
"The question comes down to the economics of it. Do people really want to pay to watch an exhibition?"
(Reporting by Steve Keating in Toronto, Editing by Ed Osmond)
euronews provides breaking news articles from reuters as a service to its readers, but does not edit the articles it publishes. Articles appear on euronews.com for a limited time.