Fed poised to raise U.S. rates, but maybe not much farther
Comments
By Reuters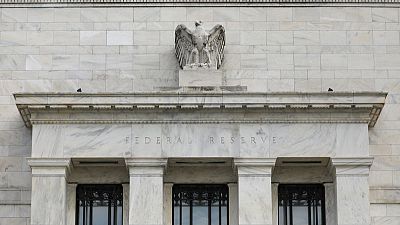 -
By Ann Saphir
JACKSONHOLE, Wyo. (Reuters) – Federal Reserve policymakers broadly agree that U.S. interest rates should rise further this year and next, despite U.S. President Donald Trump's displeasure with such a plan, two policymakers' comments underscored on Thursday.
"Based on what I see today, I think two more rate hikes could be appropriate," along with several more next year as the Fed aims to move interest rates to a neutral setting of about 3 percent, Kansas City Fed Bank President Esther George told Bloomberg TV. The interview was taped on Wednesday, one day before the start of an annual central bankers' conference in Jackson Hole, Wyoming, which she is hosting.
Dallas Fed President Robert Kaplan, in a CNBC interview later in the day, said he sees three or four rate increases necessary over the next nine to 12 months.
Trump earlier this week said he was "not thrilled" by the rate hikes that Fed Chairman Jerome Powell has overseen since Trump put him in the job in February.
"Expressions of angst about higher interest rates are not unique to this administration," George told CNBC, using nearly identical language in a separate interview with Fox Business. "We know higher interest rates cause adjustments in the economy."
Kaplan agreed. "Our job at the Fed is to make decisions on monetary policy and supervision without regard to political considerations or political influence, and I'm confident we'll continue to do that," he told CNBC.
The Fed began its current round of interest-rate hikes under Fed Chair Janet Yellen in December 2015, and since December 2016 has lifted them every quarter, including in June, when George joined her colleagues in voting for the increase. She is expected to remain a voting member of the Fed's policy committee until the end of next year, unless the San Francisco Fed appoints a president before the Fed's December meeting.
Fed Chair Powell is due to speak Friday at the central banking conference. He is widely expected to signal rate hikes will continue, given 3.9 percent unemployment and inflation that is now near the Fed's 2-percent target.
The Fed currently targets short-term rates at between 1.75 percent and 2 percent. This is still well short of 2.5 percent to 3 percent, the level at which most Fed officials believe rates would no longer act as a stimulant to economic growth.
George is one of the Fed's most hawkish policymakers and in the past has consistently advocated a faster path of rate hikes than her colleagues. In the interviews aired Thursday, however, she took care to hedge that view, a possible signal that the Fed is reaching a point where rate-hike policy is less predictable.
Kaplan also signalled he is concerned that fiscal-policy-fueled economic growth will fade next year, making more rate hikes unnecessary, or at least not as obvious.
"We expect economic growth is going to tail off somewhat down to what we call potential," Kaplan said.
(Reporting by Ann Saphir; Editing by Chizu Nomiyama)