Cancer patients - the other victims of Yemen's war
Comments
By Reuters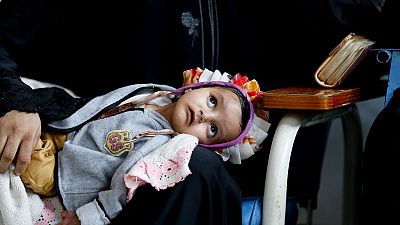 -
SANAA/HODEIDAH, Yemen (Reuters) – On Yemen's western coast, Mohammed al-Hosami receives support from the people of his village in al Mahwit to pay for his mother's cancer treatment in a clinic in nearby Hodeidah city.
"There is no work or salary so we can't afford transportation costs, and the village helped me with the payments for treatment and to take her there," he said as a doctor tended to his mother, who had visible swelling in one arm.
Millions of Yemenis are at risk from hunger and cholera brought on by three years of war, an emergency that has also hit cancer patients, struggling to get treatment in a country where the economy and infrastructure have collapsed.
The World Health Organization (WHO) said around 35,000 people have cancer in Yemen, with about 11,000 cases diagnosed each year.
"It is very difficult to find medicines, and if you find them in the market, they're too expensive and citizens cannot afford them," said Mohammed Al-Emad, accompanying a relative going for treatment in the capital Sanaa.
Yemen is embroiled in a war between a Saudi-led military coalition and the Iranian-aligned Houthi group. The fighting has crippled its economy and healthcare system, and unleashed the world's most urgent humanitarian crisis with millions facing starvation and diseases such as cholera, diphtheria and malaria.
The Saudi-led alliance has imposed stringent measures on maritime trade to Yemen in an effort to choke off arms supplies to the Houthis, who still control the most populous areas of the country including Sanaa. But the measures have also slowed the flow of desperately needed aid supplies.
The National Oncology Centre in Sanaa admits around 600 new cancer patients each month. But it received only $1 million (£776,070) in funding last year from state entities and international aid groups, the head of the centre, Ahmed al-Ashwal, told Reuters.
The few beds available at the centre are reserved for children. Other patients receive treatment intravenously, while sitting on dilapidated recliner chairs or in the waiting area.
The WHO said that prior to the conflict, the centre used to receive $15 million a year from the state and that the budget was used to purchase chemotherapy medications and anti-cancer drugs for oncology centres across the country.
"Now, the National Oncology Centre is totally relying on the fund provided by international organizations, including WHO, and some charitable organizations or businessmen as the government fund has been disrupted for around two years," it said in a statement emailed to Reuters.
The head of the Al-Amal Centre for Cancer Treatment, Yasser Abdullah Noor, said the centre is struggling to provide care to its more than 5,300 patients in Hodeidah and was in danger of shutting down without government support.
"A centre that provides care to thousands of patients cannot operate on donations and grants alone."
For a picture essay, click on: https://reut.rs/2MKIArq
(Reporting by Reuters team in Yemen and Tuqa Khalid in Dubai; editing by Hugh Lawson)