Approaching hurricane sparks runs in Hawaii on plywood, water and gasoline
Comments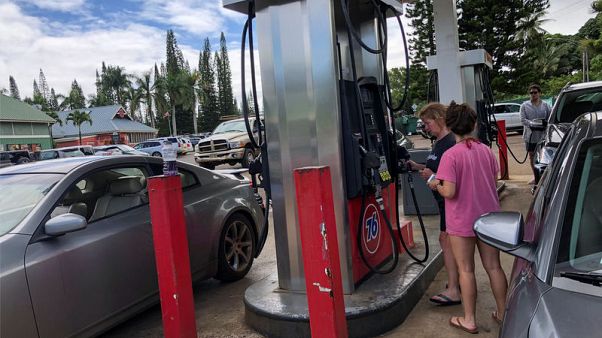 -
By Sue Horton
HANALEI, Hawaii (Reuters) – Micco Godinez, who rents out kayaks on the island of Kauai and loves surfing, said he was twice tempted to hit the waves on Wednesday but kept his focus on a more pressing concern – getting ready to board up his home for a major hurricane.
With forecasts calling for Hurricane Lane to strike or brush past Hawaii's "Garden Isle" on Friday, Godinez, 66, has joined tens of thousands of others on Kauai, and across the state, in the rituals of disaster preparation.
Lane, wavering between Category 4 and Category 5 strength on the five-step Saffir-Simpson hurricane scale, churned toward the U.S. Pacific island state with sustained winds of up to 155 miles per hour (250 kph) on Wednesday, as authorities urged residents to stock up on water, food and medicines.
Across Hawaii, jittery residents lined up at hardware centers, gasoline stations and grocery stores. But nowhere was the sense of urgency perhaps more palpable than on Kauai, where torrential rains four months ago triggered widespread flooding that destroyed homes and washed out roads.
"Some people here were just wiped out in that flood. It rained 50 inches (127 cm) in 24 hours," said Hanalei resident Charlie Cowden, who owns several surf shops on the island. "Now there is this."
Many older residents recalled even greater devastation from the last Category 4 storm to pummel Hawaii, Hurricane Iniki, which made landfall on Kauai in September 1992, killing six people and leveling or damaging more than 14,000 dwellings.
'SLIMPICKINGS'
Godinez, who lives two blocks from the ocean in the bayside town of Hanalei on Kauai's north shore, said he spent part of his day shopping for lumber and a recharging device for his portable drill.
He described the mood in town as "pleasantly apprehensive" and said he even felt the familiar pang of one of his favorite pastimes. "Twice the surf was up, and twice I wanted to go surfing, but I had other things pressing on my mind."
He recalled getting up early to drive to a Home Depot building-supply outlet before it opened at 6 a.m., only to find two dozen others already lined up ahead of him.
"There's a run on plywood," he said. "It was slim pickings when I was there."
Pausing later after filling up jugs of water, Godinez said he and his wife would spend the rest of the day taking measurements and cutting plywood to fit over more than 18 windows on their two-story house.
"Measure twice, cut once, and away we go," he said, adding they would wait until Thursday for the latest forecasts before deciding whether to go ahead with fastening the boards to the windows.
Since Hanalei is on the opposite side of Kauai from where the hurricane is most likely to come ashore, Godinez said he was less concerned about ocean storm surge than ferocious winds.
Godinez said he, his wife and two guests planned to "hunker down" in a first-floor laundry room at the height of the storm, should it make landfall by late Thursday or early on Friday.
With two small laundry windows sealed up and probably no electricity, except for battery-powered flashlights, "It's going to be hot and dark," he said.
(Reporting by Sue Horton; Additional reporting and writing by Steve Gorman in Los Angeles; Editing by Bill Tarrant and Peter Cooney)
euronews provides breaking news articles from reuters as a service to its readers, but does not edit the articles it publishes. Articles appear on euronews.com for a limited time.