African swine fever - China marks new front in battle against deadly disease
Comments
By Reuters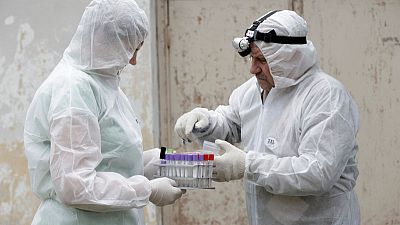 By Josephine Mason
BEIJING (Reuters) – China is battling to control the rapid spread of deadly African swine fever (ASF) across the world's largest hog herd after four outbreaks in three weeks, stoking worries the disease could spread to Southeast Asia.
The discovery of ASF in China, which accounts for nearly half the world's pork production and is the world's highest per capita consumer of the meat, marks a new front in the disease's spread from Europe through Russia.
"The swine industry has never seen an ASF outbreak in such a production landscape, and control measures are untested," warned the Swine Health Information Center, a U.S. research body.
*SYMPTOMS
ASF is the most devastating swine disease. It causes fever, haemorrhaging in the skin and internal organs and death in 2-10 days, according to the World Organisation for Animal Health (OIE).
Mortality rates can be as high as 100 percent.
It is transmitted by ticks and direct contact between animals, and can also travel via contaminated food, animal feed, and people travelling from one place to another. There is no vaccine. It is not harmful to humans.
*FROM RUSSIA, WITHSWINEFEVER
Russia, the largest country by land mass hit by the infection, has spent a decade struggling to control the disease. ASF has killed around 800,000 pigs, infected pig farms owned by top agricultural companies, including Miratorg and RusAgro, and reduced small-hold farm pork production by half.
Its gradual spread over the past year or so across Russia towards China's borders, had left Chinese pigs vulnerable to infection, experts say.
An outbreak in Irkutsk in March 2017 marked the disease's first long jump from central eastern Europe to eastern Russia, 1,000 km from the Chinese border, according to the United Nations Food and Agriculture Organization (FAO).
From 2007 to July 2017, there were 5,445 cases in continental Europe, including 903 in Russia.
*CHINA'S CHALLENGE
The FAO warned in a report in March that the spread of AFS to China would have "devastating consequences for animal health, food safety and food security and raise the possibility of further spread to Southeast Asia."
The vast distances between outbreaks in China, with infections appearing in four provinces in a short period of time, has highlighted the challenge for Beijing in controlling the disease.
To put the distance into context, the four provinces that have reported infections have a combined size around that of Spain.
To reach Wenzhou, the location of China's most recent case, from the first outbreak in northeastern Liaoning, it's a 2,150 km (1,335 mile) drive south through the pig producing provinces of Hebei and Shandong, as well as Jiangsu, another infected region.
A rapid expansion of the northeastern pig farming sector in recent years means more live pigs travel thousands of kilometres from farm to market to slaughter and processing in the central and southern regions.
Wide varieties of farm sizes from backyard family-run pens to large-scale commercial operations, as well as a large wild boar population, make it difficult to prevent and control the disease, the FAO says. Backyard farms account for 27 percent of China's output.
China's large population of wild boar, which can harbour the disease without showing symptoms, is estimated to total around 33.5 million, according to Reuters calculations based on FAO data. Pigs may also have access to untreated or uncooked food waste and swill.
The country has prohibited hunting of wild boar since 1994 unless farmers can demonstrate they are responsible for crop damage.
*DIFFICULT TO ERADICATE
The disease was first detected in Africa almost a century ago and spread to continental Europe in the 1960s, where it took three decades to eradicate.
All successful eradication programmes have involved the rapid diagnosis, slaughter and disposal of animals on infected premises, thorough cleaning and disinfection, removal of insects such as ticks, movement controls and surveillance, according to the OIE.
The most recent case in Europe was reported in Georgia in 2007 and it has since spread to Armenia, Russia and Azerbaijan. It reached Ukraine and Belarus in 2012 and 2013 respectively, and hit Romania in 2017.
It has never occurred in the United States.
(Reporting by Josephine Mason; Editing by Kirsten Donovan)