'Play anywhere' trend in vogue as Germany's Gamescom fair opens
Comments
By Reuters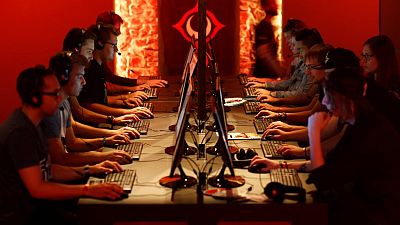 -
COLOGNE, Germany (Reuters) – Playing video games anywhere is the new trend being promoted by the online entertainment industry as the annual Gamescom trade fair opens its doors in the German city of Cologne.
More people play video games on their smart phones now than on computers, said Felix Falk, head of German industry federation Game, adding that subscription games and cloud gaming are also hot topics this year.
The fair, which opens to the public on Wednesday and runs until Aug. 25, features exhibitors from more than 50 countries presenting their latest offerings.
Among them, and a first in Germany, is a video game which includes Nazi-era symbols after the country's Entertainment Software Self-Regulation Body gave the green light for their use.
In "Through the Darkest of Times", devised by Berlin-based independent studio Paintbucket Games, players are cast in the role of resistance fighters in Third Reich Berlin.
The display of Nazi symbols like swastikas is unconstitutional and illegal in Germany but "Through the Darkest of Times" was deemed an exception under a clause that allows their use for the purpose of artistic expression.
Falk welcomed the decision, saying that "in individual, exceptional cases," video games can now be put on the same level as movies and books.
"I believe this is an important message for the equality of the medium and also for developers who are very involved and responsible in also treating difficult topics," he said.
(Reporting by Reuters Television; Editing by Douglas Busvine)