Italian PM Conte calls on EU partners to help with migrant boat
Comments
By Reuters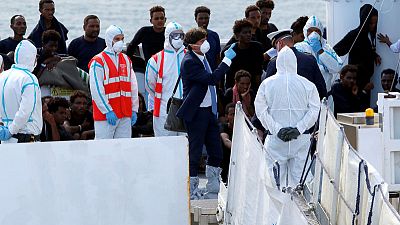 -
By Steve Scherer
ROME (Reuters) – Prime Minister Giuseppe Conte on Wednesday appealed to Italy's European Union partners to take in some of the migrants held on a coastguard ship in a Sicilian port and not allowed to disembark.
"What are they waiting for to intervene so that we can redistribute the migrants?" Conte said on Facebook.
Interior Minister Matteo Salvini, from the far-right League party, has been resisting pressure to let the 177 migrants off the ship and the issue is straining relations with the League's coalition partner, the anti-establishment 5-Star Movement.
The coastguard ship Diciotti has been docked in the port of Catania for two days. Salvini has said he will not let the migrants aboard come ashore until other European countries agree to take them in. They were rescued from an overcrowded boat a week ago.
Backing up Salvini, Conte said Italy was "waiting for a strong and clear answer from the European institutions and an adequate response from the other European countries".
After Conte's comments, Salvini said on Facebook the 29 minors aboard the ship could disembark, but not the others. He accused other European countries of a "cowardly silence" over what to do with the migrants and said Brussels was "sleeping".
"If Europe doesn't play its part, as far as I'm concerned the boats can go back to where they came from," he said.
In response to criticism earlier on Wednesday, Salvini posted a picture of some 20 protesters holding banners, including one reading, "Let's stay human", at the Catania port.
"The 'very numerous' protesters who still want immigrants have arrived in Catania … Should I send them a kiss?" he wrote on Twitter, followed by an emoticon blowing a kiss.
Salvini also replied to a coastguard official who had told Corriere della Sera newspaper the situation was "embarrassing". Salvini said on Twitter that after over 650,000 arrivals from sea since 2014, "I'm the embarrassing one?"
Salvini has repeatedly said Italy "will no longer be Europe's refugee camp", calling on European partners to share the burden. But his hardline position appeared to be irritating his 5-Star ally on Wednesday.
Roberto Fico, the 5-Star speaker of the lower house, said on Twitter the migrants "must be able to disembark. They cannot be held on board any longer".
Salvini snapped back: "you do your job as speaker of the Chamber and I'll do my job as minister."
Last month President Sergio Mattarella made a rare intervention in Italian politics to end a simmering dispute between the two governing parties over whether to let the Diciotti disembark 67 migrants in western Sicily.
ITALYAGAINSTMALTA
With the help of the European Commission, Malta and Italy have taken in ships carrying migrants after European partners offered to accept a share of the new arrivals themselves.
"We call on everyone to contribute to a swift resolution so that the people onboard the (Diciotti) vessel may safely disembark," a European Commission spokeswoman said on Wednesday.
However, Conte said countries that had previously offered to take in migrants allowed to dock in Italy in July had not kept their word. France had taken some, but Germany, Portugal, Spain, Ireland and Malta had not, he said.
For its part, the Maltese government said in a statement on Wednesday: "The Italian authorities have not provided any tangible procedure for Malta to follow."
It added that Italy had failed to meet its quota from a humanitarian vessel that docked in Malta in June "despite the efforts of the Maltese authorities to complete this process with the Italian authorities".
Migrant flows across the Mediterranean from Libya to Italy – one of the main routes to Europe – have tapered off as Libyan factions have cracked down on people-smugglers, and as the EU has bolstered its support for the Libyan coastguard.
But people are still dying at sea and summer is peak season for migrants attempting the crossing, often in overcrowded, unseaworthy boats.
On Wednesday, the Maltese military picked up 100 migrants and two corpses from a boat that was in imminent danger of sinking, a statement said.
(Additional reporting by Gavin Jones, Gabriela Basczynska in Brussels and Chris Scicluna in Valletta; Editing by Andrew Roche)