China expects Taiwan's last Africa ally will switch to Beijing soon
Comments
By Reuters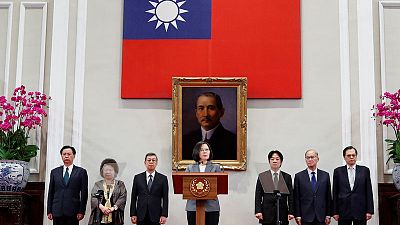 -
BEIJING/TAIPEI (Reuters) – China expects self-ruled Taiwan's last diplomatic ally in Africa, the Kingdom of eSwatini, will switch to Beijing soon, a senior Chinese diplomat said on Wednesday, a day after China won over the third Taipei ally in a year.
Taiwan, which China claims as a wayward province with no right to state-to-state relations, now has formal ties with only 17 countries, many of them small, less developed nations in Central America and the Pacific, including Belize and Nauru.
Taiwan President Tsai Ing-wen, who has vowed not to bow to Chinese pressure, came under opposition criticism on Wednesday amid calls for a more friendlier policy towards Beijing.
Taiwan vowed on Tuesday to fight China's "increasingly out of control" behaviour after Taipei lost another ally to Beijing when El Salvador became the third country to switch allegiances to China this year.
Ahead of next month's summit between China and African leaders in Beijing, China has been upping the pressure on Taiwan's last remaining ally on the continent, eSwatini, formerly known as Swaziland, to come over to China's side, diplomatic sources say.
Speaking to reporters in Beijing about the summit, Chinese Assistant Foreign Minister Chen Xiaodong that eSwatini did not have relations with China "for reasons that everyone knows".
"We look forward to and hope that all African nations, with none left behind, can take part in positive China-Africa cooperation, and become a member of the largest family get together," Chen said.
"I believe that this is not just the pursuit of China, it is also a widespread shared expectation of African nations. I believe that this target can in the not too distant future be realised," he added, without elaborating.
'ENORMOUSMISTAKE'
Taiwan President Tsai Ing-wen has vowed not to bow to Chinese pressure, Taipei has accused Beijing of offering generous aid and loan packages to lure its allies across, charges China denies.
The island's biggest opposition group, the China-friendly Kuomintang (KMT), urged for a "better alternative" following what it described as "enormous mistakes" in Tsai's cross-strait policy. "The ruling party has the responsibility to think of a better cross-strait policy…The relations with China have turned stagnant and were frozen," KMT's spokesman Mong-kai Hung told Reuters.
Yu-fang Lin, a KMT lawmaker who leads the diplomacy and defence committee in the Taiwan parliament, urged Tsai to recognise the "one China" principle, an agreement reached between Beijing and then-ruling KMT in 1992, under which both agreed there is only one China, with each having their own interpretation of what that means.
"She should bravely tell her supporters they need a friendlier policy to China, this way there would be more support for her," Lin said.
China's hostility to Taiwan has grown since Tsai's election as Beijing fears she wishes to push for the island's formal independence, a red line for China. She says she wants to maintain the status quo but will defend Taiwan's democracy.
State-run Chinese newspaper the Global Times said in a Wednesday editorial that China did not have to "pay a fortune to steal Taiwan's 'allies'".
"Many of the island's 'allies' have a larger trade volume with China than with Taiwan. Their establishment of diplomatic ties with the Chinese mainland is an irresistible trend. It is only a matter of time before Taiwan has zero 'allies.'"
(Reporting by Christian Shepherd in BEIJING and Jess Macy Yu and Yimou Lee in TAIPEI; Writing by Ben Blanchard; Editing by Michael Perry)