Australian PM, fighting for political life, dumps tax policy
Comments
By Reuters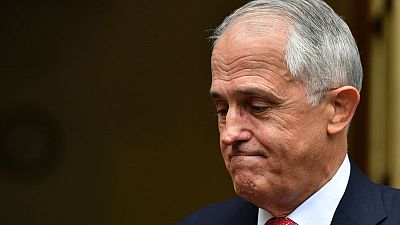 -
By Colin Packham
CANBERRA (Reuters) – Australian Prime Minister Malcolm Turnbull's grip on power slipped further on Wednesday when he was forced to abandon his centrepiece tax policy and a conservative rival in his own party canvassed support for an imminent second challenge.
Turnbull's legislative agenda crumbled around him this week as he first watered down his main energy policy and then withdrew planned tax cuts for corporations, at the same time as he fought off a growing challenge from former home affairs minister Peter Dutton.
Dutton challenged Turnbull on Tuesday in a vote by the Liberal Party, the senior partner in the centre-right government coalition, that likely marked the beginning of the end for Turnbull.
Turnbull won the party-room vote 48-35 but the narrow margin of the victory made another challenge almost certain in a country that has earned a reputation for a revolving door of political leaders, with six prime ministers since 2009.
Dutton, who needs to win over only seven more colleagues to become leader, said he was already canvassing party support for another tilt at Turnbull, possibly as early as this week.
"I'm speaking to colleagues," Dutton told 3AW Radio.
"If I believe the majority of colleagues support me then I will consider my position," he said.
Deepening speculation about Turnbull's future, Governor-General Peter Cosgrove cancelled travel plans and will remain in Canberra this week, a source familiar with the plans told Reuters.
Cosgrove is British Queen Elizabeth's representative in Australia and would need to be on hand to swear in a new prime minister if Turnbull was ousted, or to accept Turnbull's request to dissolve parliament if he decides to call an early election.
The next election is due by May.
Australian newspapers echoed the frustration many voters feel over the constant leadership changes.
"It would be kinder to voters and more in the national interest if Mr Turnbull drove to Yarralumla (Cosgrove's official residence) and called an election a year early," The Sydney Morning Herald wrote in an editorial.
"The big risk is that he might be shafted even before he got to the end of the driveway," it said.
'UNEQUIVOCALLOYALTY'
The internecine Liberal Party strife has been a boon for the opposition Labor Party, who find themselves in the enviable position of having to do little more before the next election than sit back and watch their opponents crumble.
Labor used Question Time in parliament on Wednesday to ask seven of the nine Cabinet ministers who voted for Dutton whether they still supported Turnbull.
All seven had tendered their resignations to Turnbull, who refused them in an attempt to show unity and later said he had been given "unequivocal assurances of continuing loyalty". Dutton and one other opponent were allowed to leave the ministry.
Turnbull's decision to dump his unpopular plan to cut corporate tax rates to 25 percent from 30 percent was seen as an attempt to curry favour with colleagues.
His plan echoed that of U.S. President Donald Trump but, with record corporate profits and stagnant wage growth, the policy has proved widely unpopular with voters.
"It is clear that the policy was never going to be an election-winning one. There has been some concern within the backbench about policy, it will show them that he is listening," said Rod Tiffen, emeritus professor of political science at Sydney University.
The upper house Senate rejected the policy on Wednesday and Turnbull said soon after he would no longer pursue it.
"We will not be taking the tax cuts for larger companies to the next election," he told reporters in Canberra.
FRACTUREDPARTY
Despite Turnbull offering an olive branch, further political instability is all but guaranteed in the final two days parliaments sits before it breaks until September.
The turmoil has upset Australia's financial markets, with the main stock market down nearly 0.5 percent on Wednesday to a nine-day low.
Turnbull came to power in a party-room coup in September 2015 over former premier Tony Abbott, who also survived an internal leadership contest before his eventual defeat.
A social liberal and multi-millionaire former merchant banker, Turnbull rode an early wave of popular support but he has struggled to appeal to conservative voters and only narrowly won an election in 2016.
Progressive supporters have also been disappointed as they watched government policies shift to the right as Turnbull tried to appease a powerful right-leaning backbench.
Dutton, a hardline conservative who carved out his reputation overseeing Australia's harsh immigration policy, is unpopular with moderate voters, raising the possibility that a third, centrist candidate might still emerge.
(Reporting by Colin Packham; Editing Paul Tait)