Australia's opposition Labor sitting pretty as PM's leadership appears doomed
Comments
By Reuters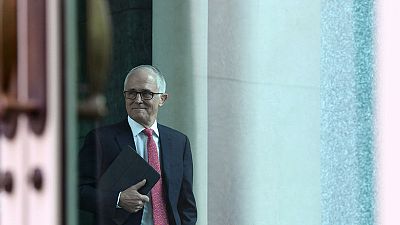 -
By John Mair and Erin Cooper
SYDNEY (Reuters) – Australia's opposition Labor Party looks to be in the envious position of having to do little to ensure victory in the next election after Prime Minister Malcolm Turnbull survived a damaging leadership challenge on Tuesday.
Polling and growing dissatisfaction with Turnbull's fractured centre-right government, led by his Liberal Party, suggest all Labor has to do before the next election, which could be as soon as next month or as late as May, is avoid shooting themselves in the foot.
"I would think the Liberal Party have a very limited chance of winning the next election," said Ian McAllister, professor of Political Science at Australian National University in Canberra.
"Labor's strategy would just be to do very little, just sit on the sidelines. They'll just be bystanders until the election is called."
However, recent experience would suggest that Labor can not take for granted a smooth path to election victory.
For one thing, Labor leader Bill Shorten's central involvement in deposing two prime ministers when his party was last in office has left a bad taste with voters.
Despite his party's lead in opinion polls, Shorten has consistently trailed Turnbull as preferred prime minister.
But with the Turnbull's government at war with itself as a conservative faction has leveraged a slim parliamentary majority to challenge policy it disagrees with, voters may set aside questions over Shorten's leadership.
Turnbull, trying to regain the initiative as speculation swirled over his future, began a meeting of Liberal parliamentarians on Tuesday by declaring the leadership of the party, and therefore the government, open to be contested.
He headed off a leadership challenge from Minster of Home Affairs Peter Dutton by a margin of 48 votes to 35 in the surprise vote.
But that was hardly the resounding vote of confidence Turnbull sought.
Had just seven votes gone the other way, he would have lost office, and so the talk in Canberra has been when, not if, a second challenge would come.
'UNPOPULARLEADERS'
Parliament adjourns on Thursday until Sept. 10.
If the policy paralysis and poor opinion polls continue, Turnbull could call an election before the new parliamentary session, or he looks bound to face another challenge.
"There's no doubt that when one major party is tearing itself apart over leadership and that major party happens to be the party of government, the other major party in opposition benefits," said Nick Economou, senior lecturer in politics at Monash University in Melbourne.
Labor appears to be in a position of strength.
It has rated higher than the Liberal-National coalition in the past 38 Newspoll opinion polls, a widely watched gauge of voter sentiment released every two weeks.
Turnbull used a shorter run of Newspoll losses as part of his justification to depose Tony Abbott as prime minister in his own party coup in September 2015.
The ruling coalition's battle plan, which it repeated as it tried to close ranks after the leadership vote, is to focus on stopping Shorten from becoming prime minister.
The government has been keen to highlight questions over Shorten's leadership, reminding the public of his role in removing both Kevin Rudd and Julia Gillard as Labour prime ministers in 2010 and 2013, and also portraying him as a high-taxing former union leader.
"He's less popular than Malcolm Turnbull, and the least popular leader Australia has seen over the past 30 years. The saving grace for Labor is voters don't like Malcolm Turnbull much better," said the ANU's McAllister.
"Having two relatively unpopular leaders doesn't give an advantage to either party because they cancel each other out."
One thing voters seem to share is frustration with the incessant infighting within both major parties.
"Definitely had enough of this, I think that it's bad for the stability of the nation," said law student Renata Labio.
"We just need to have a stable leadership and we need to stop these challenges. It's utterly ridiculous."
(Editing by Robert Birsel)