S&P 500 sets record high, dollar slips after Trump attacks Fed
Comments
By Reuters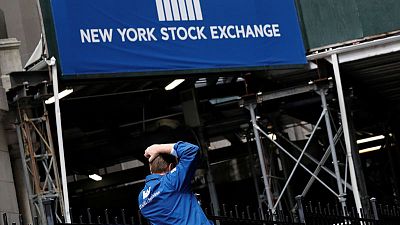 -
By Herbert Lash
NEWYORK (Reuters) – Global equity markets rose on Tuesday, with the S&P 500 setting a new record high, as strong earnings and economic growth fuelled stocks, while the dollar weakened after U.S. President Donald Trump slammed the Federal Reserve for raising interest rates.
The S&P 500 rose as much as 0.57 percent to 2,873.23, above its previous record high of 2,872.87 set on Jan. 26. The benchmark index has gained over 2 percent in the past month.
"Remarkably, even at this point – a new all-time record and on the verge of being the longest bull market in history – it's got some room to run," said David Kelly, chief global strategist at JPMorgan Asset Management in New York.
The S&P 500 was poised to mark another major milestone on Wednesday when the bull market turns 3,453 days old, making it the longest such streak in the eyes of many market watchers.
Trump said in an interview with Reuters on Monday that he was "not thrilled" with the Fed under his appointee, Chairman Jerome Powell, for raising rates and that the U.S. central bank should do more to boost the economy.
Trump also accused China and Europe of manipulating their currencies. The euro is down about 3.4 percent so far this year against the dollar, while the Chinese yuan has slipped 5.1 percent this year against the greenback.
"It would appear that Mr. Trump would like to keep the U.S. dollar a little on the weak side in order to remain competitive," said CMC Markets chief markets analyst David Madden.
The dollar index, which tracks performance against a basket of six major currencies, fell 0.8 percent on Tuesday, and has slid almost 1.6 percent over the past four days, its worst such run since late March.
The dollar's weakness eased pressure on emerging markets, many of which have struggled in recent weeks as worries over Turkey sparked a sell-off in EM assets around the globe.
MSCI's benchmark emerging equities index rose 1.23 percent and was on track for a third day of gains after Trump's comments.
MSCI's gauge of stocks across the globe gained 0.62 percent, while the pan-European FTSEurofirst 300 index of leading regional shares closed up 0.20 percent, lifted by gains in Bayer, Total and Novo Nordisk.
Encouraging earnings reports, led by medical device maker Medtronic Plc posting a better-than-expected quarterly profit, lifted both U.S. equities and shares in Europe.
Operating earnings have gained more than 25 percent year-over-year in the first two quarters, which Kelly said is truly extraordinary in the bull market's tenth year.
"This is about to become the longest bull market in history. Because it's the most hated bull market, it's important to realize that the longevity has been helped by the fact people have been sceptical all the way along," he said.
Some remain sceptical as equities are relatively expensive.
A price/earnings multiple of 20 will make it hard for stocks to move materially higher in the near future, with earnings comparisons getter tougher and earnings growth slowing, said Michael Geraghty, equity strategist at Cornerstone Capital Group.
"There's not a whole lot of reasons for stocks in aggregate to move materially higher or lower anytime soon," he said.
The Dow Jones Industrial Average rose 103.99 points, or 0.4 percent, to 25,862.68. The S&P 500 gained 11.28 points, or 0.39 percent, to 2,868.33 and the Nasdaq Composite added 55.09 points, or 0.7 percent, to 7,876.10.
Trump, who criticized the Fed when he was a candidate, said in the interview other countries benefited from their central banks' moves during tough trade talks, but the United States was not getting support from the Fed.
"During this period of time, I should be given some help by the Fed. The other countries are accommodated," Trump said.
The dollar index fell 0.78 percent, while the euro gained 0.94 percent to $1.1587.
The Japanese yen weakened 0.25 percent versus the greenback at 110.36 per dollar.
U.S. Treasury yields rose on improving risk appetite and as investors awaited the minutes from the Fed's August meeting on Wednesday and a speech by Powell in Jackson Hole, Wyoming, on Friday.
Expectations for two additional Fed rate hikes this year were lower a day after Trump's comments.
Benchmark U.S. Treasury 10-year notes fell 6/32 in price to yield 2.8442 percent.
Oil rose to its highest in a week, buoyed by the prospect of price support from U.S. sanctions on Iran, though the U.S.-Chinese trade dispute kept traders and analysts cautious.
Brent crude futures rose 42 cents to settle at $72.63 per barrel and U.S. crude settled 92 cents higher at $67.35 per barrel.
U.S. gold futures for December delivery settled up $5.40 at $1,200 per ounce.
Graphic – Emerging markets in 2018: http://tmsnrt.rs/2ihRugV
Graphic – World FX rates in 2018: http://tmsnrt.rs/2egbfVh
Graphic – MSCI All Country World Index Market Cap: http://tmsnrt.rs/2EmTD6j
Interactive Graphic – The long bull run in context: http://graphics.thomsonreuters.com/testfiles/bull-run/
(Reporting by Herbert Lash; Editing by Meredith Mazzilli and Nick Zieminski)