With inflation soaring, Venezuela prices shed five zeros
Comments
By Reuters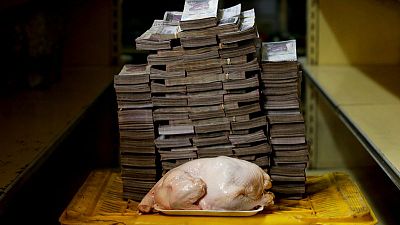 By Tibisay Romero
VALENCIA, Venezuela (Reuters) – Venezuela on Monday slashed five zeros from prices as part of a broad economic plan that President Nicolas Maduro says will tame hyperinflation but critics call another raft of failed socialist policies that will push the chaotic country deeper into crisis.
Streets were quiet and shops were closed due to a national holiday that Maduro decreed for the first day of the new pricing plan for the stricken economy, which the International Monetary Fund has estimated will have 1 million percent inflation by year end.
The price change comes with a 3,000 percent minimum wage hike and tax increases meant to shore up government revenue and a plan to peg salaries, prices and the country's exchange rate tied to the petro, an elusive state-backed cryptocurrency.
Economists say the plan announced on Friday is likely to escalate the crisis facing the once-prosperous country that is now suffering from Soviet-style product shortages and a mass exodus of citizens fleeing for nearby South American countries.
Venezuelans are mostly baffled by the monetary overhaul and sceptical it will turn the country around.
"This is out of control, prices are sky high," said Betzabeth Linares, 47, in a supermarket in the central city of Valencia. "What worries me is how we'll eat, the truth is that the way things are going, I really don't know."
After a decade-long oil bonanza that spawned a consumption boom in the OPEC member, many poor citizens are now reduced to scouring through garbage to find food as monthly salaries currently amount to a few U.S. dollars a month.
The new measures spooked shopkeepers already struggling to stay afloat due to hyperinflation, government-set prices for goods ranging from flour to diapers, and strict currency controls that crimp imports.
Growing discontent with Maduro has also spread to the military as soldiers struggle to get enough food and many desert by leaving the country, along with hundreds and thousands of civilians who have emigrated by bus across South America.
Two high-ranking military officers were arrested this month for their alleged involvement in drone explosions during a speech by Maduro, who has described it as an assassination attempt.
The chaos has become an increasing concern for the region. In recent days, Ecuador and Peru have tightened visa requirements for Venezuelans, and violence drove hundreds of Venezuelan migrants back across the border with Brazil on Saturday.
Maduro, re-elected to a second term in May in a vote widely condemned as rigged, says his government is the victim of an "economic war" led by political adversaries with the help Washington, and accuses the United States of seeking to overthrow him.
The United States has denied the accusations. But it has described the former bus driver and union leader as a dictator and levied several rounds of financial sanctions against his government and top officials.
(Writing by Brian Ellsworth; Editing by Alexandra Ulmer and Susan Thomas)