Taiwan 'won't bow to pressure', president says amid China tensions
Comments
By Reuters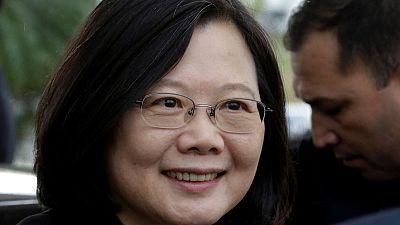 -
TAIPEI (Reuters) – Taiwan President Tsai Ing-wen said on Monday the self-ruled island would not bow to pressure after her high-profile trip to Latin America, including stops in the United States, which drew criticism from China.
China, which claims Taiwan as its territory, has ramped up military and diplomatic pressure in an attempt to assert Chinese sovereignty over the island, even as the U.S. government makes fresh overtures to it.
In March, U.S. President Donald Trump signed the Taiwan Travel Act — a non-binding bill encouraging the United States to send senior officials to Taiwan to meet Taiwanese counterparts.
While Tsai was not invited to the United States for an official visit, she met U.S. senators while she was there, attended banquets with overseas Taiwanese and spoke of the need for strong ties with Washington.
The number of countries that now officially recognise Taiwan has been whittled down to 18, following moves by Burkina Faso in West Africa and the Dominican Republic in the Caribbean region to formally switch relations to China from Taiwan this year.
"Taiwan would not bow to pressure. Pressure would only make us more determined and united. It would only boost our determination to go abroad," Tsai said at Taiwan's international airport upon arrival late on Monday after the nine-day trip. She did not elaborate.
Tsai said during talks with heads of state during the trip, she had "demonstrated Taiwan's determination for the value of freedom and democracy."
China, which believes Tsai wants to push for Taiwan's formal independence, has already complained to Washington about her U.S. stopovers on the arrival and departure legs of her trip to Paraguay and Belize in the past two weekends.
Democratic Taiwan is one of China's most sensitive territorial issues and Tsai's U.S. stopovers in the United States, a customary practice for Taiwanese presidents, came amid an increasingly bitter trade war between Beijing and Washington.
While the United States has no formal ties with Taiwan, it is its main supplier of arms and military hardware, and its strongest unofficial diplomatic backer.
In a sign of the geo-political tensions, a Taiwan bakery chain with numerous branches in China disappeared from major Chinese food apps amid calls for a boycott after Tsai stopped by for a coffee at one of its stores in Los Angeles
In response, Tsai last week urged people in Taiwan to remain united and she remained defiant in the face of Beijing's pressure.
"My administration will continue strengthening every aspect of #Taiwan-#US relations. Until next time!" Tsai tweeted upon her departure from a U.S. airport earlier on Monday, along with a photo of her holding hands with James F. Moriarty, chairman of the American Institute in Taiwan.
(Reporting by Yimou Lee and Fabian Hamacher; Editing by James Pomfret and Richard Balmforth)