ConocoPhillips settles with Venezuela's PDVSA to recover $2 billion
Comments
By Reuters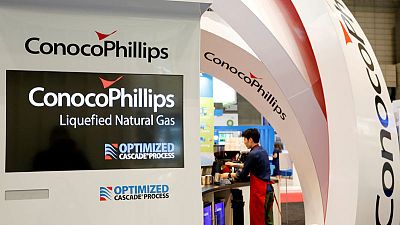 -
(Reuters) – U.S. oil producer ConocoPhillips <COP.N> will recover about $2 billion (£1.6 billion) under a settlement with Venezuela's state-run oil company, PDVSA, ending a long-running dispute over the fallout of the nationalisation of the country's oil industry.
The dispute heated up in May https://www.reuters.com/article/us-conocophillips-pdvsa/conoco-has-seized-venezuela-pdvsa-products-from-isla-refinery-curacao-idUSKCN1IE0Y8?il=0 when Conoco moved to seize the Caribbean assets of PDVSA, after the International Chamber of Commerce (ICC) ruled that the Venezuelan state oil driller violated several contracts.
PDVSA has agreed to make an initial payment of around $500 million (£392 million) within a period of 90 days from the time of signing the agreement, ConocoPhillips said in a statement.
The remaining amount is to be paid quarterly over a period of 4-1/2 years.
ConocoPhillips declined to say if the PDVSA payments would be made in cash or crude oil, saying details of the agreement are confidential.
Venezuela's economy, almost completely dependent on oil exports, is in deep recession with hyperinflation and severe shortages of basic needs like medicine and food. The country's ability to pay has also been hurt by U.S. sanctions.
Houston-based Conoco said it made sure that the settlement met all appropriate U.S. regulatory requirements, including any applicable sanctions against Venezuela.
Conoco left Venezuela after it could not reach a deal to convert its projects into joint ventures controlled by PDVSA as part of the nationalisation of the country's oil industry under late President Hugo Chavez. Its assets were expropriated in 2007.
The company said on Monday it has also agreed to suspend its legal enforcement of the arbitration award following its settlement with PDVSA.
(Reporting by Nivedita Bhattacharjee in Bengaluru and Gary McWilliams in Houston; Editing by Anil D'Silva and Saumyadeb Chakrabarty)