Chinese investors protest in Shanghai's financial district over P2P woes
Comments
By Reuters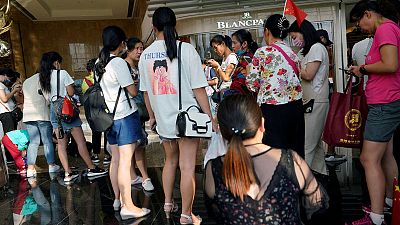 -
SHANGHAI (Reuters) – Investors in Chinese online peer-to-peer (P2P) lending platform PPMiao protested at the offices of one of the company's shareholders in Shanghai's financial district on Monday, in the latest manifestation of problems facing the industry.
At least 243 P2P companies have collapsed in China since June, precipitating the withdrawal of funds from many firms in the industry and sparking protests by investors across the country.
About 300 investors in PPMiao crammed into the lobby of Shanghai's International Finance Centre (IFC) shopping mall, which also houses the office of HuaAn Future Asset that was registered as a shareholder in PPMiao's former operator, Hangzhou Fuqian Network Technology.
PPMiao, which on its website says it has 4.9 billion yuan (£561 million) in funds and about 360,000 users, said in an Aug. 6 statement that it was unable to continue operating because investors were withdrawing funds and some firms it had lent money to had suspended payments.
It said it would return funds to investors over a 36-month period.
However, investors protesting at the IFC, some of whom were carrying small national flags, told Reuters they were worried they would not get their money back.
Many tried to enter HuaAn's offices but police told them to leave. Protesters said they then sent representatives to speak to the firm.
Police for Lujiazui district, where IFC is located, declined to comment.
One of the protesters, Cai Dandan, a 28-year-old hotel worker, told Reuters she had travelled to Shanghai from nearby Hangzhou in the hope of contacting HuaAn over her investment over about 450,000 yuan that she put in PPMiao.
"I was going to use the money to buy my marital home so it's as if my home is in the (PPMiao) platform. It's not just my money but my life," she said.
HuaAn, whose shareholders include government-owned companies like Shanghai Electric Group and Shanghai Trust, said in a statement on Monday that it had registered as a stakeholder in Hangzhou Fuqian on behalf of a client and had never profited from the platform.
However, it added that the relationship had ended in July and HuaAn was now cooperating with Hangzhou police.
A spokesman for HuaAn told Reuters the company was communicating with investors but declined to provide further details.
PPMiao and Hangzhou Fuqian did not respond to Reuters' requests for comment.
P2P platforms gather funds from retail investors and lend to small corporate and individual borrowers, promising high returns.
They started flourishing nearly unregulated in China in 2011. At a peak in 2015, there were about 3,500 such businesses.
(Reporting by Brenda Goh and SHANGHAI Newsroom; Editing by Robert Birsel)