Strong winds stoke bushfires on Australia's east coast
Comments
By Reuters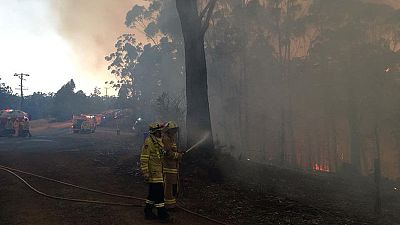 -
By Will Ziebell
MELBOURNE (Reuters) – Strong winds intensified bushfires burning across much of the Australian state of New South Wales on Saturday, with the Rural Fire Service (RFS) upgrading warnings on three of more than 70 fires to emergency level.
Residents of Tabulam, a town in northeastern New South Wales about 780 kilometres (485 miles) north of Sydney, were told to shelter in a solid structure as it was too dangerous to try to escape the blaze.
People living close to an out-of-control fire near Port Stephens, a town about 180km (111.85 miles) north of Sydney, were told to put their bushfire survival plans into action.
"If your plan is to leave early, leave now," the RFS said on Twitter.
Nearly 800 firefighters were battling 73 blazes across the state on Saturday afternoon, the RFS said.
While the fires posed no immediate threat to any major population centres, bushfires are rare during the Australian winter and have been fanned by above-average dry conditions.
Almost all of New South Wales, Australia's most populous state, is facing drought conditions.
On Thursday, the Bureau of Meteorology forecast more warm, dry weather across large parts of Australia for the next three months, and raised the possibility of an El Niño weather event developing during the Southern Hemisphere's spring.
Investigations also began on Saturday into the death of a helicopter pilot, who died when his aircraft crashed on Friday while dropping water to fight fires near the town of Ulladulla about 180 kilometres south of Sydney.
The fire near Ulladulla had been raise to emergency level on Saturday afternoon, but was later downgraded to "watch and act".
(Reporting by Will Ziebell; Editing by Kenneth Maxwell)