Medics call for mandatory suspensions and scans to protect knocked out fighters
Comments
By Reuters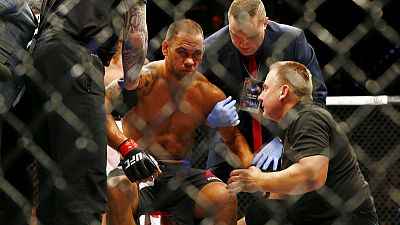 By Philip O'Connor
STOCKHOLM (Reuters) – Ringside doctors in combat sports such as boxing and mixed martial arts (MMA) have called for suspensions and examinations for fighters who get knocked out to ensure they have enough time to recover before they fight again.
Many state athletic commissions in the United States already impose suspensions of 30, 60 or 90 days but Dr. John Neidecker of the Association of Ringside Physicians (ARP) told Reuters that more needs to be done to protect fighters.
"We want to increase awareness and educate those involved in combat sports about the best practices in concussion management and help bring them into combat sports," he said.
"These guidelines (about universal mandatory suspensions) could potentially decrease the incidence of long-term neurological problems in combat sports athletes."
The ARP also wants fighters who have suffered knockouts to be examined and cleared by specialist doctors before they fight again, as well as changes to how post-fight examinations are done.
"They should take place in a quiet environment, like a dressing room, not just at ringside. This practice typically does not happen at events where there is a single physician covering," Neidecker said.
The ARP consensus report also calls for fighters to follow a gradual progression of activity when returning to their sport after a concussion or knockout.
With former American footballers suing the National Football League over long-term brain damage and concerns about head injuries in sports such as rugby and soccer, the issue is a hot topic.
"Combat sports are inherently different then non-combat sports in both objective and head impact exposure. Therefore guidelines in concussion management should be more conservative in combat sports," Neidecker explained.
Professional boxer Steve Collins Junior, who is scheduled to fight Steven Ward for the Celtic light heavyweight title at Belfast's Windsor Park on Saturday, said he would welcome such a move.
"I definitely think there should be a mandatory suspension of at least two months, and then a brain scan," the 28-year-old told Reuters.
Collins has a pro record of 12 wins, one draw and one loss by decision, with four of those wins coming by knockout or technical knockout.
"If you get knocked out, it should definitely be assessed and not just taken out of the ring – assessed by a doctor, given some time off to recover mentally and physically, and then maybe another brain scan before you enter the ring again," he added.
(Reporting by Philip O'Connor, editing by Pritha Sarkar)