Venezuelans rush to shops before monetary overhaul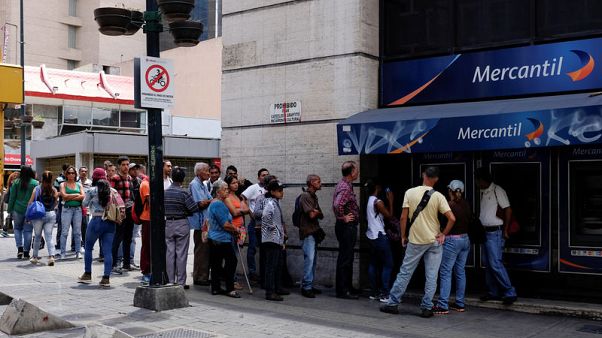 -
By Shaylim Castro and Isaac Urrutia
CARACAS/MARACAIBO (Reuters) – Jittery Venezuelans on Friday rushed to shops and formed long lines in preparation for a monetary overhaul that will remove five zeros from prices in response to hyperinflation that has made cash increasingly worthless.
Shoppers sought to ensure their homes were stocked with food before the measure decreed by President Nicolas Maduro takes effect on Monday, on concerns that confusion among merchants and overtaxed banking systems could make commerce impossible.
Inflation hit 82,700 percent in July as the country's socialist economic model continues to unravel, meaning purchases of basic items such as a bar of soap or a kilo of tomatoes require piles of cash that is often difficult to obtain.
"I came to buy vegetables, but I'm leaving because I'm not going to wait in this line," said Alicia Ramirez, 38, a business administrator, leaving a supermarket in the western city of Maracaibo. "People are going crazy."
The change appears unlikely to generate the chaos of December 2016 when Maduro removed the largest note in circulation without providing a replacement for it. That led to protests, lootings and hundreds of arrests as the country was effectively left without legal tender.
Traffic was light in the capital of Caracas on Friday as shopkeepers hunkered down ahead of the overhaul. Major cities around the country looked as though it was a national holiday.
Maduro, who has said the country is victim of an "economic war" led by political adversaries, said the measure would bring economic stability to the struggling OPEC nation.
His critics have said the move is little more than an accounting manoeuvre that would do nothing to slow soaring prices. They blame inflation on failed socialist policies and indiscriminate money printing.
Because many transactions now happen via debit cards over point-of-sale terminals, many worry that the change – which banking industry leaders have said was carried out too quickly – could collapse financial networks.
Maduro has declared a public holiday for Monday, when a new set of bills will be introduced with the lower denominations. Internet banking operations will be halted for several hours starting on Sunday evening.
"I don't understand this monetary conversion, the government has not explained how it will work or what salaries will be," said Yuraima Galaviz, who was shopping in the western city of San Cristobal. "How are we supposed to buy things if we haven't even seen the new bills?"
The primary difference between the upcoming change and Maduro's 2016 currency decision is that in this instance, most of the current ones will coexist with the new notes for an undetermined period while the new bills come into circulation.
That will in some circumstances leave consumers in the confusing situation of having to use old bills with face value of 1,000,000 bolivars to make purchases valued at 10 bolivars in the new denomination.
Poor Venezuelans without bank accounts have for months been carrying wads of cash to make basic purchases.
Buying one kilo of cheese, worth the equivalent of $1.14 at the most widely used exchange rate, requires 7,500 notes of 1,000 bolivar denomination – a note that was only brought fully into circulation in 2017.
One bar of soap, which sells for the equivalent of $0.53, requires 3,500 of the same notes.
"This is going to be complete disaster, we don't have information," said Yoleima Manrique, 42, assistant manager of a home appliance store in Caracas. "It's going to be crazy for the clients and for us."
(Additional reporting by Mayela Armas and Corina Pons in Caracas, Anggy Polanco in San Cristobal, Maria Ramirez in Puerto Ordaz, and Tibisay Romero in Valencia; Writing by Brian Ellsworth; Editing by Alexandra Ulmer and Diane Craft)
euronews provides breaking news articles from reuters as a service to its readers, but does not edit the articles it publishes. Articles appear on euronews.com for a limited time.