Trump doubles down on security clearances, former officials slam move
Comments
By Reuters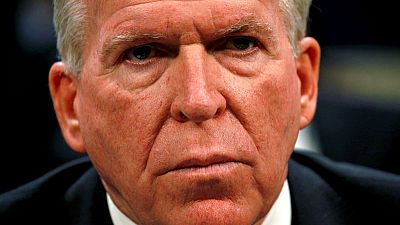 By Jeff Mason and Susan Heavey
WASHINGTON (Reuters) – Former top U.S. intelligence officials sharply rebuked U.S. President Donald Trump on Friday for stripping one-time CIA director John Brennan's security clearance, but Trump defended his move and said he planned at least one more revocation.
Trump told reporters he was likely to take away clearance access from Bruce Ohr, an official in the Department of Justice who is linked to a dossier on Trump's campaign and Russia, compiled by former British spy Christopher Steele.
Trump defended his move on Brennan on Wednesday, saying it had elevated the former CIA chief rather than hampered his freedom of speech.
The Republican president also lashed out again at Special Counsel Robert Mueller, who is leading an investigation into possible collusion between Trump's 2016 campaign and Moscow. Without citing evidence or offering proof, he said Mueller had conflicts of interest of his own.
The remarks came a day after the bipartisan group of former intelligence leaders lashed out at the president for his move on Brennan, a former official in the Obama administration and sharp critic of Trump.
Brennan recently described Trump's actions at a summit with Russian President Vladimir Putin in Helsinki last month as treasonous.
In a statement released late on Thursday, officials who served under Republican and Democratic officials said they did not necessarily agree with Brennan's harsh criticism of the president but that security authorisations should be based on national security, not politics.
"We all agree that the president's action regarding John Brennan and the threats of similar action against other former officials has nothing to do with who should and should not hold security clearances – and everything to do with an attempt to stifle free speech," the former CIA directors, deputy directors and directors of national intelligence said.
"We have never before seen the approval or removal of security clearances used as a political tool," they wrote, adding that Trump's move was an "inappropriate and deeply regrettable" signal to former and current officials who dared to criticise him.
The group of former officials included Robert Gates, George Tenet, David Petraeus, James Clapper and Leon Panetta, among others. Gates and Panetta also served as secretaries of defence.
In another pushback against the president, retired Navy Admiral William McRaven, who oversaw the operation that killed Osama bin Laden, praised Brennan and asked Trump to revoke his security clearance as well, writing in a Washington Post opinion piece that he would "consider it an honour."
Trump challenged the suggestion that he was trying to silence critics by taking away security clearances.
"There's no silence. If anything, I'm giving them a bigger voice," Trump said.
"Many people don't even know who (Brennan) is, and now he has a bigger voice. And that's OK with me, because I like taking on voices like that. I've never respected him."
Brennan said earlier this week he would "not relent" despite the removal of his clearance.
The White House said it was studying a list of other individuals for security clearance review, and Trump suggested Ohr was at the top of that list.
"I think Bruce Ohr is a disgrace," he said. "I suspect I'll be taking it away very quickly."
Ohr works in the Justice Department's criminal division.
Trump also lashed out at Mueller, saying former FBI Director James Comey was the special counsel's "best friend." Trump fired Comey last year. He offered no other examples to prove his point.
"Mr. Mueller is highly conflicted. … I could go into conflict after conflict," Trump said. "But let him write his report. We did nothing. There's no collusion."
Trump repeatedly has called the probe a "witch hunt" and sought to discredit those involved in it.
Russia denies having meddled in the 2016 election, but U.S. intelligence agencies uniformly say Moscow did intervene and tried to help Trump beat Democratic presidential candidate Hillary Clinton.
Putin told reporters in Helsinki, while standing next to Trump, that he had wanted the former New York businessman to win the White House.
(Additional reporting by Jonathan Landay; editing by Jonathan Oatis)