Trailer at New Mexico compound had been stolen in Alabama - police
Comments
By Reuters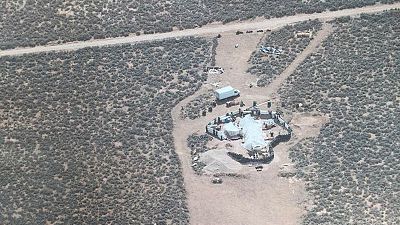 By Andrew Hay
TAOS, N.M. (Reuters) – A camping trailer at the New Mexico compound where five people were charged with child abuse earlier this month had been stolen from an Alabama farmer and towed to the ramshackle settlement north of Taos, police said on Friday.
The trailer, which was partially buried at the compound, was reported stolen from a farm in Notasulga, Alabama, in August 2017, New Mexico Office of Special Investigations Special Agent-in-Charge Mark Torres told Reuters.
Torres said it was towed to the compound last December by a white moving truck owned by Lucas Morton, one of the people arrested at the settlement.
It was the latest development in the story that began on Aug. 3 when police raided the compound, and Morton, Siraj Ibn Wahhaj, Jany Leveille, and two other adults were detained. Eleven children ranging from 1 to 15 years of age were found at the compound and placed in protective custody.
Prosecutors have said the adults and children were related by blood or marriage and were a zealous Islamic family planning to attack schools, banks and police.
The adults were charged with felony child abuse, and Ibn Wahhaj was also charged with kidnapping his 3-year-old son, Abdul-Ghani, from his mother in Georgia last December. The boy's remains were found at the compound days after the raid.
Torres said on Thursday that it was not clear who had stolen the trailer and no new charges have been filed against the adults.
Lawyers for the defendants did not respond to requests for comment.
A cache of weapons was found at the compound, according to police, and prosecutors have accused Ibn Wahhaj of training two of the children to use them in preparation for attacks. Defense attorneys have denied the allegations and said the defendants were being discriminated against because they are black and Muslim.
One of the adults, Jany Leveille, a Haitian national, was transferred to the custody of U.S. immigration officials on Tuesday and faces possible deportation. A judge had approved bail for the five adults, but lawyers representing them said on Friday they feared for their safety outside jail.
(Reporting by Andrew Hay in Taos, N.M.; Editing by Daniel Wallis, Toni Reinhold)