Top Pennsylvania Catholic leader vows to ensure abuses 'never recur'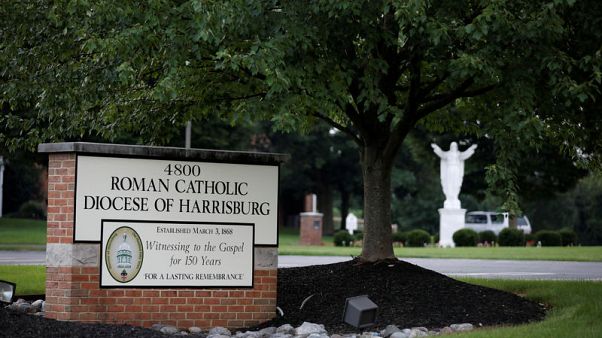 -
(Reuters) – Pennsylvania's top Roman Catholic official on Friday vowed to ensure the widespread sexual abuse by hundreds of priests and cover-up revealed in this week's bombshell grand jury report would never happen again.
In the most wide-ranging U.S. investigation into sexual abuse by priests since the scandal burst into the public eye in Boston in 2002, a two-year Pennsylvania investigation found evidence that at least 1,000 people, mostly children, had been sexually abused by some 300 clergymen during the past 70 years. The report said the numbers of actual victims and abusers could be much higher.
"The substance of the report is brutally graphic and profoundly disturbing as a chronicle of evil inflicted on hundreds of innocents," Philadelphia Archbishop Charles Chaput said in a weekly letter to Catholics. "The only acceptable responses are grief and support for the victims and comprehensive efforts to ensure that such things never recur."
Chaput's archdiocese was not covered by the Tuesday report, although a 2005 grand jury report found evidence that hundreds of children had been sexually abused by at least 63 priests in the district.
Reuters this week contacted the attorneys general of the 49 other U.S. states to see if they were considering similar actions. Only two, in New York and New Mexico, said they had taken some initial steps toward doing so.
Most declined to confirm or deny any investigations, said their state laws limited their ability to take on wide-ranging criminal investigations or did not respond to requests for comment.
The Vatican broke its silence on the report late Thursday, when spokesman Greg Burke called the abuses revealed in the graphic report "criminal and morally reprehensible."
The nearly 900-page report describes in graphic detail decades of sexual assaults, grooming of minors to make them more vulnerable and other abuses by priests and other clergy.
Over the years the sexual abuse scandal has taken a heavy toll on the U.S. Catholic Church, driving down attendance and donations and leading to the closure of parishes as the Church paid out hundreds of millions of dollars in settlements. Victims have struggled with long-term mental health issues, substance abuse and in some cases have committed suicide, according to victim advocacy groups.
Similar reports have emerged in Europe, Australia and Chile, prompting lawsuits and investigations, undercutting the moral authority of the leadership of the Catholic Church, which has some 1.2 billion members around the world.
(Reporting by Scott Malone in Boston and Joseph Ax and Gabriella Borter in New York; Editing by Bill Trott)
euronews provides breaking news articles from reuters as a service to its readers, but does not edit the articles it publishes. Articles appear on euronews.com for a limited time.