Rolling summer blackouts weigh on Libya's struggling traders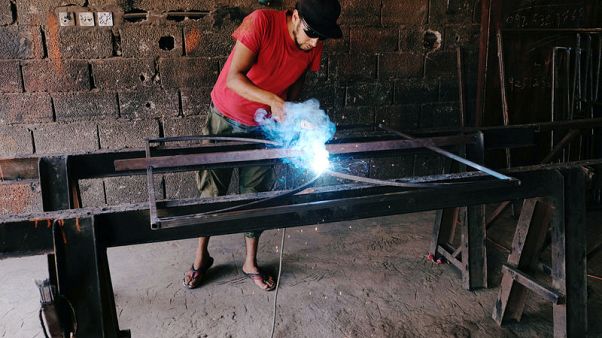 -
By Ayman al-Warfalli and Ahmed Elumami
BENGHAZI, Libya/TRIPOLI (Reuters) – Lengthy power outages have left tradesmen and small businesses in Libya struggling to survive in an economy already crippled by a liquidity crisis and high inflation.
For several years, power cuts lasting most of the day have become common across the North African country during the hot summer months, when air conditioning drives up electricity demand.
Bill payment for heavily subsidized electricity is rarely enforced, so there is little incentive to limit consumption. Plans to boost capacity at power stations have stalled due to security problems and political turmoil, meaning a shortfall of at least 1,000 MW at times of high demand.
That leaves small businesses facing constant disruption.
In Libya's second city, Benghazi, café owner Ibrahim Elumami says power cuts nearly halve the rate at which he sells coffee, and have also forced him to stop offering fresh juice.
"Frankly the power cuts in Benghazi have become unbearable. There are long cuts and short cuts and in both cases we take losses," he said.
"I have a generator but it's not good, it works for four hours, then can't keep going because of the coffee machines."
At metal workshops in the city, owners say they reopen at night when power returns, or work by hand. Power surges that occur when the electricity is switched back on can break their machines, and industrial generators cost around 60,000 Libyan dinars ($9,000 (£7082) at black market rates).
Generator repair work is one of Libya's few flourishing trades.
The oil-dependent economy has been crippled by the conflict that developed after a 2011 uprising, as well as by the competition between rival factions and governments.
Power supply is overseen by separate administrations in the east and west.
The east was receiving about 60 MW from neighbouring Egypt last week, a power official said, but still faced a supply shortfall of up to 250 MW.
In the capital Tripoli, in the more populous west, power outages have been lasting 7-10 hours a day, but sometimes stretch to more than 12 hours.
GECOL, the state power supplier based in Tripoli, has blamed the crisis on problems including lack of funding for regular maintenance and on theft and vandalism.
It frequently reports the theft of copper from power facilities and recently deployed technicians to remove illegal connections, cutting more than 500 in the first six days of the campaign in Tripoli.
Militias have also manipulated the power network to ensure supplies for their neighbourhoods, officials say.
On both sides of the country, living standards have declined steeply as the dinar has lost value on the parallel market, inflation has climbed to around 30 percent, and banks have run out of cash.
A divided central bank and an internationally recognised government in Tripoli have failed to deliver on promised reforms, deepening resentment among citizens forced to queue at banks for hours or even days to make withdrawals.
Residents also vent their anger against a largely powerless, parallel government in the east, where prices for sheep ahead of next week's Muslim holiday of Eid al-Adha have risen to record levels.
Hopes that the power supply crisis will be resolved have dimmed.
"I use an electric oven, and if there's no power it means I cannot serve my customers," said Tripoli restaurant owner Mohamed Zighaale, who fears he may have to close.
"I pay for rent, the salaries of eight employees, supplies, but at the end I find nothing to pay myself because I'm losing money."
(Writing by Aidan Lewis; Editing by Hugh Lawson)
euronews provides breaking news articles from reuters as a service to its readers, but does not edit the articles it publishes. Articles appear on euronews.com for a limited time.