England's Cipriani 'hugely regrets' nightclub incident
Comments
By Reuters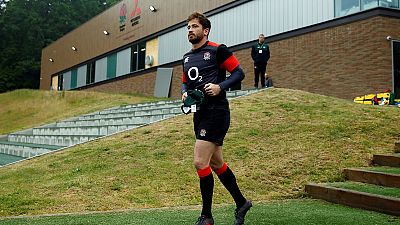 -
(Reuters) – England flyhalf Danny Cipriani has said he "hugely regrets" his role in an incident at a nightclub on Jersey, which left a female police officer bruised and led to his arrest.
The 30-year-old was arrested in Jersey on Wednesday and plead guilty to common assault and resisting arrest in the Jersey magistrate's court on Thursday.
Cipriani was handed a 2,000 pound fine and ordered to pay 250 pounds in compensation to the officer.
"I have been in a cell for more than 24 hours thinking about what happened," Cipriani told The Times.
"I have massive admiration for the police and the job they do. I hugely regret what happened. I just want to talk to the female police officer and apologise."
The altercation took place when Cipriani tried to carry drinks into the outdoor area of a bar, where he and his Gloucester Rugby team mates were having a barbecue following a pre-season match.
The 30-year-old said the bouncer did not allow him to take the drinks outside and started recording Cipriani with a camera attached to his tie, leading the England player to grab the device.
Police officers were then called to the scene minutes later.
"The police told me they were going to arrest me on the basis of what the bouncer told them and I tried to explain my side of the story," Cipriani added.
"As they tried to put my hands behind my back, I stood my ground for a matter of a few seconds and raised my voice. I hugely regret doing so."
Cipriani has been warned by England coach Eddie Jones over his conduct following a number of off-field issues, including a training-ground fight with a Wasps team mate and a nightclub incident while playing for Australia's Melbourne Rebels in 2011.
"I have spent a long time trying to focus on the things that matter," Cipriani said. "I fought hard to win a return to the England team and felt huge honour to represent the country in South Africa early in the summer.
"… What happened on Wednesday has caused much reflection. I am very grateful to the magistrate, who said that the incident was minor. But I am in no doubt that it was completely unacceptable."
(Reporting by Aditi Prakash in Bengaluru; editing by Sudipto Ganguly)