USTR Lighthizer eyes NAFTA 'breakthrough,' Mexico urges flexibility
Comments
By Reuters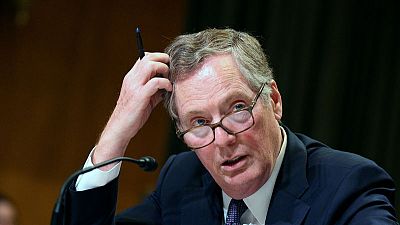 By Jason Lange and Steve Holland
WASHINGTON (Reuters) – U.S. Trade Representative Robert Lighthizer on Thursday expressed hope a breakthrough could be made in the coming days in efforts to rework the NAFTA trade deal, though his Mexican counterpart said flexibility was needed to reach agreement.
Lighthizer was speaking in Washington amidst the latest round of high-level talks between U.S. and Mexican officials to rejig the North American Free Trade Agreement, known as NAFTA, with a deal still elusive a year after the renegotiation began.
"I'm hopeful that in the next several days we'll have a breakthrough," Lighthizer said in response to a question from U.S. President Donald Trump on how talks were progressing during a U.S. cabinet meeting at the White House.
Trump himself said he was in "no rush" to conclude the talks, repeating his oft-stated complaint that the 24-year-old trade agreement had been a "disaster" for the United States.
"We have much better alternatives than that. So if you can't make the right deal, don't make it," Trump told Lighthizer.
Departing from earlier talks at Lighthizer's offices, Mexican Economy Minister Ildefonso Guajardo suggested there was still work to be done before agreement could be reached.
"Everybody has got to show flexibility," he told reporters.
Guajardo last month expressed hope that there could be a preliminary NAFTA deal by the end of August, but he has since appeared to pull back from that position.
NAFTA talks ground to a halt in late May in the run-up to the presidential election in Mexico on July 1.
After the election, U.S. and Mexican officials began meeting again without the third member of the pact – Canada – in an effort to tackle bones of contention, including revamped automotive sector rules and a sunset clause that could kill NAFTA after five years.
The U.S. team's insistence on making tariff-free market access under NAFTA conditional on higher regional auto content and certain wage level requirements for auto industry workers has been a particular stumbling block at the talks.
Talks were due to continue on Thursday afternoon.
Trump has driven the process, threatening to dump NAFTA if it is not renegotiated in favour of the United States.
The U.S. president has argued the deal has facilitated an exodus of manufacturing jobs from the United States to Mexico. But NAFTA's supporters say it has kept the region competitive.
(Reporting by Jason Lange; additional reporting by Steve Holland; writing by Daina Beth Solomon; editing by Dave Graham and G Crosse)