Games - South Korea's focus shifts from 'Peace Games' to beating Japan
Comments
By Reuters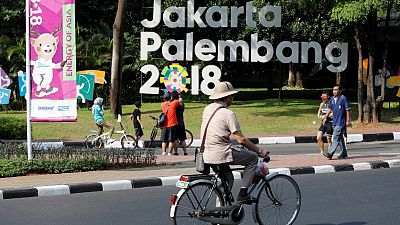 -
By Peter Rutherford
SEOUL (Reuters) – Second best is rarely acceptable when it comes to sport in South Korea but with powerhouse China certain to dominate the medal standings at this month's Asian Games beating Japan to the runners-up spot will be Korea's true measure of success.
The buildup to international multi-sports events such as these, on the peninsula at least, typically focuses on the level of cooperation between North and South Korea and whether sport can be used as a vehicle to bring them closer together.
But while they have agreed to march together at the opening ceremony and jointly compete in several events, public interest in cross-border sports cooperation has waned since the 2018 Winter Olympics, where the fanfare surrounding the North's participation stole much of hosts South Korea's thunder.
Instead, South Korea's focus will be on beating Japan to second place at the Asian Games for a sixth successive edition, and have targeted a minimum of 65 of the 462 gold medals up for grabs in Jakarta and Palembang.
A chunk of those golds are expected to come from taekwondo, boxing, fencing, archery and judo, sports in which South Korea traditionally rank in the top two at the Asian Games.
But while shooting has brought 21 gold medals over the last two Games the Koreans have had to limit their expectations for Jakarta after the hosts slashed the number of events in the sport to 20 from 44.
South Korea are reigning women's basketball champions but have agreed to field a joint team with the North this time as part of efforts to promote peace, something Sports Minister Do Jong-whan told them they should be proud of.
"I am happy to see that South and North Korea have come together to compete as one team, and the people are all behind you," Yonhap news agency quoted him as saying at the national training centre.
"I want to thank you for leading the way towards prosperity and harmony."
Joint Korean teams will also be fielded in canoeing and rowing events.
Of the 779 athletes South Korea will send to the Games, none will be under more scrutiny than Tottenham Hotspur forward Son Heung-min, who must help his country to a second consecutive soccer gold or see his career put on hold for nearly two years due to South Korea's military service requirements.
All able bodied South Korean men must complete 21 months service in the military as a deterrent against the North, but exemptions are offered to athletes who win gold at the Asian Games or a medal of any colour at the Olympics.
(Editing by Greg Stutchbury)