EU acting too slowly with Poland on court independence - top judge
Comments
By Reuters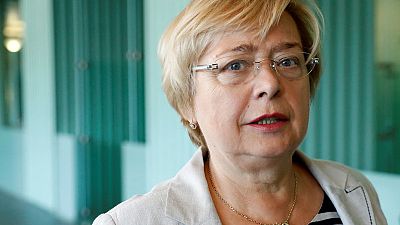 -
By Justyna Pawlak and Anna Wlodarczak-Semczuk
WARSAW (Reuters) – Poland's top judge Malgorzata Gersdorf, who is locked in a dispute with the ruling party, has urged the European Union to move faster to defend her country's judiciary from government efforts to increase its influence over the courts.
The EU's executive Commission appears "to have put faith" in the nationalist Law and Justice (PiS) party's openness to negotiate, even as the government was "playing for time", she told Reuters in an interview.
Gersdorf, who is president of the Supreme Court, is at the centre of a dispute over the rule of law in Poland, the largest ex-communist state in the EU. She has defied PiS legislation to force her early retirement, insisting her constitutional term expires in 2020.
Last month, Polish President Andrzej Duda declared Gersdorf retired and she isn't hearing cases, but she is still working out of her office at the Supreme Court building and receiving a salary.
After months of on-and-off negotiations, the EU has launched a series of legal steps against Poland's rules on the Supreme Court and other judicial reforms that it believes contravene the bloc's democratic standards.
The government says the overhaul is needed to improve the efficiency of the courts and rid the country of a residue of communism, which collapsed in Poland almost 30 years ago. Further negotiations are due to take place with Brussels but so far Warsaw has offered only cosmetic concessions.
"What may happen is … judges will be fired and (the government) will take a step back but it won't need to because the judges will be gone," said Gersdorf, adding that the EU is acting "too late".
PiS says everything it is doing is legitimate and backed by the majority of voters.
Sitting in a courtroom at the Supreme Court, Gersdorf, 65, said the EU was probably preoccupied with the rising tide of populism elsewhere in Europe to focus squarely on Poland.
She expressed hope that PiS – an economically left-leaning party with a nationalist agenda – would back down over the Supreme Court, but said she would walk away once a new chief was appointed constitutionally.
"We can't dig trenches here. (I will) have to leave with dignity," she said.
Gersdorf and judges' groups in Poland believe efforts to push her out of the Supreme Court, which validates general election results in Poland, are unconstitutional.
Through a series of hastily-approved laws, PiS has dismissed or replaced many judges from the Constitutional Tribunal and the National Judiciary Council, as well as heads of regular courts.
Replacements have been appointed under revised procedures that give parliament more say.
Once new judges are brought into the Supreme Court, it will face significant difficulties in adjudicating cases for years because of their lack of experience or a lack of continuity in the judicial process, Gersdorf said.
A politicization of Polish courts which the EU has warned about has yet to show its full impact on how the courts function, she said.
However, some judges have already faced criticism from politicians over their decisions. In particular, Gersdorf pointed to a statement by the Supreme Court this month that its judges should continue working until the EU's court rules on the legality of measures that effectively allow the government to choose the court's staff.
"It's been said that (Supreme Court) judges … should face disciplinary proceedings. This is very dangerous."
(Reporting by Justyna Pawlak; editing by David Stamp)