Japan's Don Quijote rides high on rule-breaking reputation
Comments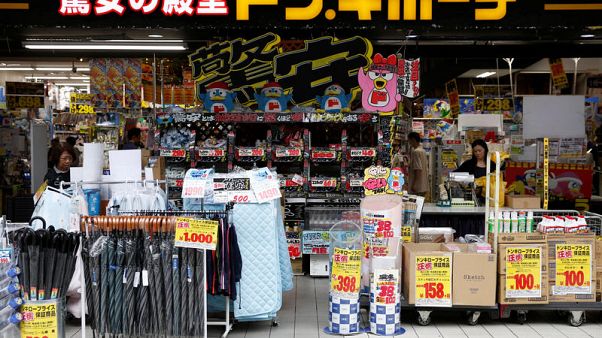 -
By Sam Nussey
TOKYO (Reuters) – Japanese discount retailer Don Quijote Holdings Co Ltd <7532.T> was once the industry's enfant terrible, overturning standard retail practices with its cluttered and chaotic stores that sell everything from faux leopard-skin rugs to designer watches.
These days, however, Donki – as it popularly known – is more of a role model, defying Japan's weak retail environment to last week report its 29th year of unbroken sales and profit growth.
With sales projected to hit 1 trillion yen (£7 billion) this year, Donki is joining the top ranks of Japan's heavyweight retail market, among the likes of Aeon Co Ltd <8267.T>, Uniqlo parent Fast Retailing Co Ltd <9983.T> and convenience store operator Seven & i Holdings Co Ltd <3382.T>.
(Click here for an interactive graphic on the trillion-yen club https://tmsnrt.rs/2nlHCUl)
The company says its success lies in its ability to amuse customers, who have tired of the efficient yet predictable shopping experiences at other Japanese stores.
"Our biggest rival is not Amazon or Aeon, but customers' losing interest," Mitsuo Takahashi, Don Quijote's chief financial officer, told Reuters in an interview.
After struggling to find sites in some areas to fuel its sustained expansion, Donki has tied up with FamilyMart Uny Holdings Co Ltd <8028.T> to convert its struggling big box stores, delivering a rapid turnaround at the first six outlets to try the new format.
And on Monday the discounter said it would be interested in buying Walmart Inc's <WMT.N> Seiyu supermarket unit, reflecting its increasingly ubiquitous presence on Japan's shopping streets, where it has replaced stores struggling in the new economy.
As Amazon <AMZN.O> grows rapidly in Japan, Donki aims to increase the fun of visiting stores by making its app more interactive – with points to collect and discounts to find – in a doubling down on its store-focused approach.
"If Amazon is like downloading music, we are like a concert venue. Both are needed," Donki Chief Executive Koji Ohara said on Monday.
THAT'S ENTERTAINMENT
Shoppers at Donki are welcomed by tanks of exotic fish before they enter a maze-like warren piled high with goods ranging from face-massaging gadgets to oversized bags of potato chips.
What feels like a pell-mell approach is actually a finely honed company strategy, the result of decades of experimentation in each store.
First-time customers often come away bewildered and humming the store's unending earworm of a theme song, but return for more, drawn back by a constantly changing array of goods. (Click here for an interactive graphic on Donki's irresistible rise https://tmsnrt.rs/2OfGeOo)
Many of the products Donki sells are cast off from other retailers, a result of the Japanese penchant for a huge variety of seasonal, limited edition and experimental products, from cans of beer splashed with cherry blossom patterns to yogurt-flavoured water.
Stocking decisions are left to store staff, and financial incentives help motivate them to source and display wares effectively. The approach is a far cry from how head offices micromanage the operations of many large Japanese retailers.
With every store catering to local tastes, "you cannot create a strategy that will be effective against all of their stores," Jefferies analyst Michael Jon Allen said of Donki's rivals.
RIDINGFORTH
Donki also has a growing range of store formats, including smaller Picasso stores, giant Mega Don Quijote and even a Platinum Don Quijote selling high-end products.
Looking to expand but faced with a shortage of suitable suburban locations, Donki last year took a 40 percent stake in the merchandise store unit of FamilyMart Uny Holdings.
It's an unlikely marriage of disparate corporate cultures. But so far it seems successful: the companies' first six Donki-style stores have almost doubled sales in the five months to July, with a further 20 stores to be converted in 2019.
That is helping push Donki toward its target of 500 stores by 2020, from 420 stores currently. Uny has almost 200 locations.
The purchase of part or all of Walmart's Seiyu chain would mark a dramatic acceleration of that expansion. Walmart says it has not made a decision to sell Seiyu.
Graphic: The trillion yen club interactive (https://tmsnrt.rs/2nlHCUl)
DONDONDONKI
Donki's newest frontier is overseas, with two "Don Don Donki" stores opened in Singapore in the last year and another due to open in Bangkok this year.
Founder Takao Yasuda, who moved to Singapore after retiring three years ago, drove the expansion there after finding Japanese products too costly. Prices are as much as 50 percent lower than rivals, said Takahashi, the CFO.
The Singapore stores are stocked mainly with food and drink, leveraging Japan's culinary reputation. Donki's "yaki-imo" or baked sweet potato is its best-selling product.
Singapore-based Euromonitor analyst Chayadi Karim said Don Quijote has tweaked its strategy in Singapore, where shoppers are unburdened by a deflationary mindset and "are willing to pay that premium for Japanese products."
Southeast Asian expansion, with several new stores opening annually, along with 28 outlets in Hawaii and California, are building Donki's food retailing expertise.
Concerns about overly rapid expansion weighed on the company's shares this year, and like all Japanese retailers, it faces headwinds from the country's aging population and growing affection for online retailers.
But for now, its ability to make money seems to be resilient.
In the most recent quarter Donki's gross margin – a key measure of profitability – climbed 0.4 percent on a year earlier to 26.6 percent.
(Reporting by Sam Nussey; Editing by Gerry Doyle)
euronews provides breaking news articles from reuters as a service to its readers, but does not edit the articles it publishes. Articles appear on euronews.com for a limited time.