Bosnian Serbs vote to overturn Srebrenica massacre report
Comments
By Reuters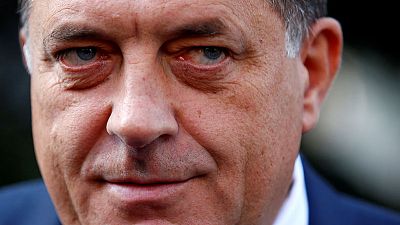 -
By Gordana Katana
BANJALUKA, Bosnia (Reuters) – Lawmakers in Bosnia's autonomous Serb-dominated region asked the regional government on Tuesday to revoke a 2004 report which concluded that Bosnian Serb forces killed about 8,000 Muslims in and around Srebrenica during the country's 1992-95 war.
The vote was initiated by Serb Republic nationalist President Milorad Dodik, and some analysts say it is the latest issue used by Serb ruling parties to mobilise voters around the nationalist agenda ahead of elections in October.
Dodik, an advocate of the Serb region's secession from Bosnia, has always rejected rulings by two war crimes courts, the International Criminal Tribunal for the Former Yugoslavia (ICTY) and The International Court of Justice, that the atrocity qualified as genocide.
Though acknowledging a crime occurred, Dodik says the numbers of those killed had been exaggerated in the 2004 report.
"The report is irrelevant, extremely selective, incorrect and tendentious," Dodik told the parliament, saying it should have included Serb victims in Srebrenica.
The parliament concluded that a new independent international commission should be formed to determine the damages suffered by all peoples in the Srebrenica region.
The Bosniaks dismissed the motion. "No revision of this report can change the evidence proven in courts about this and other cases of grave war crimes," said Ramiz Salkic, the Bosniak vice-president of the Serb Republic.
The EU delegation in Bosnia said in a statement: "The European Union rejects any denial, relativisation or misinterpretation of the genocide in Srebrenica. We also condemn the use of inflammatory ethno-political rhetoric and actions."
A joint statement from three other bodies including the U.S. Embassy to Bosnia was also critical, saying they "strongly condemn the cynical utilisation of the Srebrenica Commission's Report of 2004 for political purposes in the run-up to the elections."
(Writing by Daria Sito-Sucic; Editing by David Holmes)