Senior U.S. officials to visit wildfire-weary California
Comments
By Reuters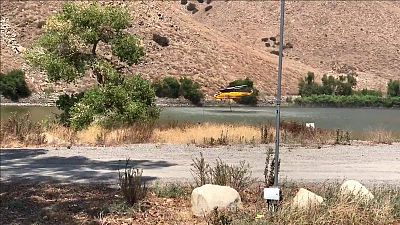 (Reuters) – Two senior members of the Trump administration will visit California on Monday, where firefighters are battling infernos that have killed at least eight people.
Some 110 wildfires are burning swathes of the western United States, which is facing an unusually active fire year that has so far burned more than 8,900 square miles (23,000 square kilometres), an area larger than the state of New Jersey, according to federal data.
The fires have forced tens of thousands of people to flee their homes and shuttered national parks.
U.S. Interior Secretary Ryan Zinke and U.S. Agriculture Secretary Sonny Perdue are expected to hold meetings with fire crews and local officials about the deadly Carr Fire, which has destroyed more than 1,000 homes and businesses north of Sacramento, the U.S. Department of Agriculture said.
The 203,000-acre (82,000-hectare) Carr Fire is 61 percent contained, the California Department of Forestry and Fire Protection said on Monday.
About 130 miles (160 km) away, the Mendocino Complex Fire, California's largest-ever wildfire, blankets 345,000 acres (139,000 hectares) and is 68 percent contained, Cal Fire said.
But the increasing containment did not necessarily mean the wildfire season was quieting down, Cal Fire spokesman Cary Wright said in a phone interview.
"A lot of this is determined based on the drought, Mother Nature, what kind of winds we get," Wright said. "With low humidity, high heat and low moisture, fire season just seems to be getting longer and longer."
Temperatures were expected to remain at above 90 degrees Fahrenheit (32 degrees Celsius) through Friday in northern California.
(Reporting by Makini Brice; Editing by Susan Thomas)