Bayer shares fall 10 percent after Monsanto's Roundup cancer trial
Comments
By Reuters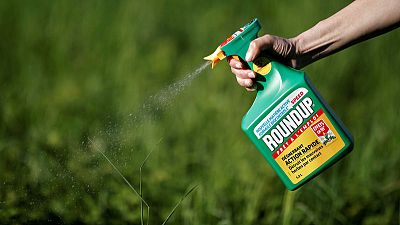 -
By Ludwig Burger
FRANKFURT (Reuters) – Bayer <BAYGn.DE> shares plunged more than 10 percent on Monday after a California jury ordered the German company's newly acquired Monsanto subsidiary to pay $289 million (226.7 million pounds) for not warning of cancer risks posed by its main weed killer.
The case against Monsanto, bought by Bayer this year for $63 billion (49.4 billion pounds), is the first of more than 5,000 similar lawsuits over the company's glyphosate-based weedkillers, including its Roundup brand, across the United States.
Monsanto said on Friday that it would appeal against the verdict which is the latest episode in a long-running debate over claims that exposure to Roundup can cause cancer.
"The jury's verdict is at odds with the weight of scientific evidence, decades of real world experience and the conclusions of regulators around the world that all confirm glyphosate is safe and does not cause non-Hodgkin's lymphoma," Bayer said in a statement, referring to the plaintiff's type of cancer.
The case of school groundskeeper Dewayne Johnson, filed in 2016, was fast-tracked for trial due to the severity of his non-Hodgkin's lymphoma, a cancer of the lymph system that he alleges was caused by Roundup and Ranger Pro, another Monsanto glyphosate herbicide.
Having closed the Monsanto takeover, Bayer is only awaiting some final antitrust-related asset sales before folding it into its own organisation. It did not negotiate any payments from Monsanto shareholders for Roundup-related litigation.
Bayer shares were down 11 percent at 83.04 euros at 0915 GMT, the worst performing stock on the Stoxx Europe 600 index <.STOXX>.
Barclays analysts said Bayer was in for a "litigious headache".
"Whilst an appeal is certain and may indeed likely result in the penalty being moderated at a minimum if not reversed altogether, a large number of similar pending cases will now likely multiply."
The controversy could also affect future revenues.
Genetically modified (GM) crops that withstand glyphosate are a main source of cash for Monsanto, mainly generated in North and South America, where the technology is widely accepted.
SCIENTIFICDEBATE
Discovered by the Monsanto chemist John E. Franz in 1970, patent-free glyphosate herbicides are now sold by the global crop protection industry despite the dispute over its safety.
The U.S. court ruling caught many Bayer investors off guard as no hard evidence of a causal link to cancer had been produced so far.
The World Health Organization's (WHO) cancer arm in 2015 classified glyphosate as "probably carcinogenic to humans", but the U.S. Environmental Protection Agency in September 2017 concluded a decades-long assessment of glyphosate risks and found the chemical was not likely carcinogenic to humans.
A Reuters report in October showed that the WHO's cancer agency dismissed and edited findings from a draft of its review of glyphosate that were at odds with its final conclusion that the chemical probably causes cancer.
In Europe, the EU Commission in December drew criticism for renewing the licence for glyphosate. Germany and France have meanwhile taken steps to phase out use of the weedkiller.
The U.S. case may prompt some retailers to curb sales of Roundup products. Homebase, one of Britain's largest home and garden improvement retailers, is reviewing the sale of glyphosate-containing products in the light of the jury's decision, a spokeswoman said.
Glyphosate-exposed stocks also plunged in Asia and particularly in Australia where a withering drought has already hit herbicide sales.
Australian chemical maker Nufarm Ltd <NUF.AX>, which Macquarie Bank analysts estimate earns about a fifth of its revenue from glyphosate-based products, plunged almost 17 percent to a more than two-year low.
Its top shareholder, Japan's Sumitomo Chemical Co Ltd <4005.T>, shed 3 percent, while Australian rural services firm Elders Ltd <ELD.AX>, which retails herbicides, fell 11 percent to a nine-month low.
Sumitomo and Elders declined to comment. Nufarm, however, sought to allay investor worries, saying it does not expect glyphosate-related issues that have arisen over the past week to "have any impact on Nufarm's business."
"The product has a 40-year history of safe use and continues to be an important tool for farmers. Nufarm will continue to work with regulatory authorities around the globe to maintain its glyphosate registrations," it added in a statement.
(Additional reporting by Tom Westbrook in Sydney, Ben Hirschler in London, Yuka Obayashi in Tokyo; Editing by David Goodman/Keith Weir)