Air France KLM shares slump on risk of further strikes
Comments
By Reuters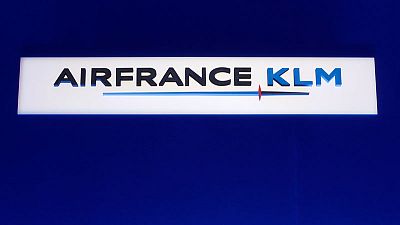 -
By Sudip Kar-Gupta
PARIS (Reuters) – Air France KLM <AIRF.PA> shares slumped on Monday after the airline's biggest pilots union said over the weekend that there were risks of further strikes if pay talks with management did not resume.
Air France KLM shares were down 5.8 percent in early trading, the worst performers on Paris' SBF-120 <.SBF120> equity index. The stock has fallen by around 40 percent so far in 2018.
"It's the risk of further strikes that's knocking down the shares," said Ion-Marc Valahu, a fund manager at Clairinvest in Geneva, who added he had steered clear of holding Air France KLM shares.
On Sunday, Philippe Evain, head of the powerful French SNPL pilots' union, threatened in an interview with Le Parisien newspaper 15 more days of strikes if the new Air France KLM chief executive did not restart talks over pay conditions.
KLM on Monday said its talks with Dutch pilots union VNV over better working conditions are in "a difficult phase".
Dutch pilots would consider going on strike if KLM fails to come up with better offers before Friday, Dutch newspaper De Telegraaf said, citing a letter from the union to its members.
Air France-KLM has been hunting for a new boss since the abrupt departure of CEO Jean-Marc Janaillac in May after staff rejected a pay offer aimed at ending the strikes which have so far cost the company 335 million euros (£298.67 million).
The French state is the biggest shareholder in Air France-KLM with a stake of about 14 percent. Delta Airlines <DAL.N> and China Eastern Airlines <600115.SS> each hold 8.8 percent.
A senior French pilot on Air France KLM's board of directors also said this weekend that the next CEO must not be beholden to external interests, as he criticised the possible choice of Air Canada's chief operating officer as preferred candidate.
Le Monde newspaper last week reported that Air France-KLM's nominations committee had picked Air Canada <AC.TO> chief operating officer Benjamin Smith as its top candidate for CEO.
Air France KLM has said only that no decision has been made yet, while Air Canada has made no comment on the matter.
Earlier this month, Air France KLM reported strong second-quarter sales and beat profit expectations, but fund managers nevertheless said uncertainty over who would lead the company meant they would not own the shares for now.
"Despite the publication of good results, the company is suffering from an unstable corporate governance," said Meriem Mokdad, fund manager at Roche Brune Asset Management in Paris.
(Additional reporting by Laetitia Volga and Bart Meijer; Editing by Geert de Clercq and Kirsten Donovan)